We've written before about the risks of running a patchwork of unrelated systems for your ad operations, and how a central hub can help media organizations streamline their ad sales.
This is all good news for your sales department. But the benefits of an all-in-one system extend far beyond mere sales, and can make day-to-day operations of multiple departments much easier.
The promise of an all-in-one solution - to anything - may seem too good to be true, but in this article we're going to look at how such a system can benefit media businesses from top to bottom.
R&D department
Faster and more efficient product launches
Imagine you have identified a promising avenue for business growth. You want to unlock that new revenue stream, but also know that every day spent updating your existing systems is time and potential revenue lost.
These transformations can never be done instantaneously, but delays have a habit of compounding, to an extent that is becoming a serious headache for business. In fact, a 2020 report by Global Data Centers found that a worrying 50% of organisations say their digital transformation projects are "always or regularly delayed".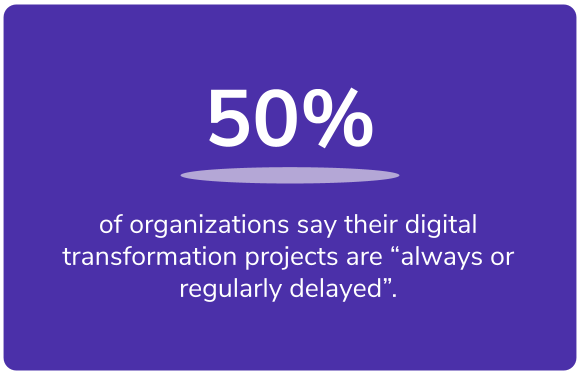 The time-to-value for newly launched products or programs is the ace up the all-in-one solution's sleeve. Rather than having to update multiple separate systems to accommodate your proposed changes, all the work can be done in a single system, reducing implementation times from weeks to days.
IT department
Reduce groundwork times and ease workload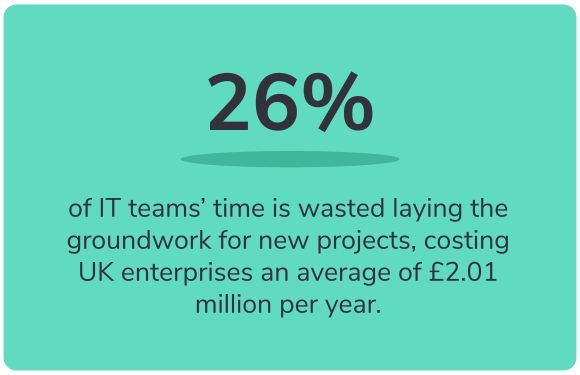 Digital transformation costs are a major concern for businesses – particularly IT departments: 26% of IT teams' time is wasted laying the groundwork for new projects, costing UK enterprises an average of £2.01 million per year.
An all-in-one solution allows IT teams to plan and execute transformations and product launches with less groundwork and shorter delivery times, so they can handle business-as-usual IT requirements with fewer distractions.
Finance department
Better control over expenses and budget
The more individual operations systems you have, the higher the cost; and the costs of these systems tend to change over time, making it a difficult task to predict your annual outgoings. If your entire sales cycle is controlled from within a single system, your operating costs are simplified and easier to control and monitor.
CFOs are increasingly key players in digital transformation as it is, as Katherine Motlagh, CFO of CyrusOne, asserted in a recent interview with Forbes Magazine: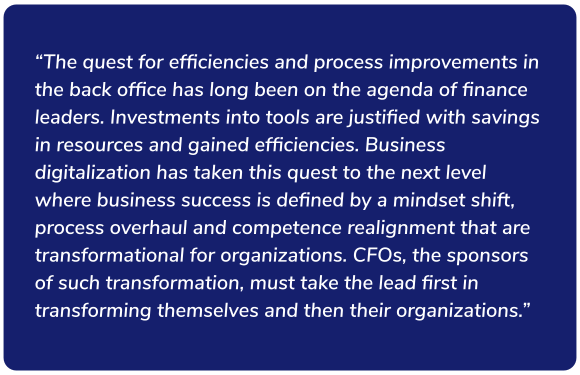 L&D department
Easier training of existing and new sales personnel
One unavoidable part of implementing new technologies is training your workforce to be fully confident and competent in using them. Familiarizing them with a single system takes less time than doing so with multiple systems.
This also applies to new recruits, who arrive needing to be brought up to speed from day one. If they only have to learn competency in a single system, they can hit the ground running much faster than if they have to learn multiple.
There is also a higher likelihood that they might already be familiar with your system from a previous place of work, and therefore require less onboarding training.
Technical support
Fewer points of failure and greater systems understanding
While not technically part of your organisation, third party technical support is a key cog in the machine.
All-in-one solutions have been designed so that all the components fit and work together seamlessly, reducing the risk of technical failure, information loss or even basic human error as personnel perform all their responsibilities in the same ecosystem.
However, even if something does go wrong, technical support from your supplier will be more reliable and trustworthy, as you can be sure that they understand your entire ecosystem 100%, and offer better solutions and support.
When assessing the opportunities and risks of a digital transformation, it is tempting to restrict your focus to the impact on the department most directly affected. But a well-executed digital transformation brings benefits to multiple departments, and provides value in many more ways than immediately apparent. In the case of an all-in-one sales operations solution, the influence extends far beyond the sales department.