CSPs have a lot to live up to.
Easy to use, digital and hyper-personalized B2B experiences are now baseline expectations.
There's no two ways about it – you have your work cut out.
But digitization also presents plenty of opportunities, you just need the right strategies and technology to make the most of them.
We've explored 5 of the most common challenges CSPs face today and ways you can overcome them to thrive in B2B.
1. Get a handle on churn
Your customers have plentiful options at their fingertips.
It's never been easier to migrate from one service provider to another.
With competitors only a few clicks away, retaining customers is a daily battle.
But beating churn is vital to increase your revenues.
Not only does it cost 5 times more to acquire a new customer than it does to keep an existing one, but it will cost you 16 times more to bring a new customer up to the same level as an existing one.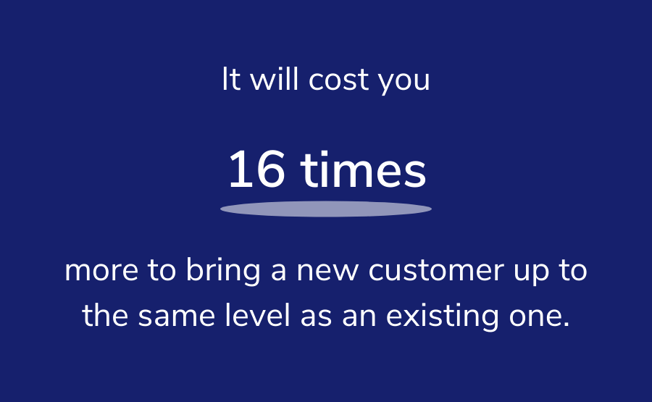 To get a handle on churn, you need to put your customers at the center of everything you do.
So which strategies should you prioritize to achieve this?
As you know, a seamless, simple and transparent experience across every single channel is a must.
This means integrating your systems, ensuring easy communication, and reducing friction between digital channels.
Another one is personalized offers and customer journeys. Personalization and customer stickiness go hand-in-hand.
In fact, 21% of customers say their satisfaction with CSPs would increase if they received personalized interactions.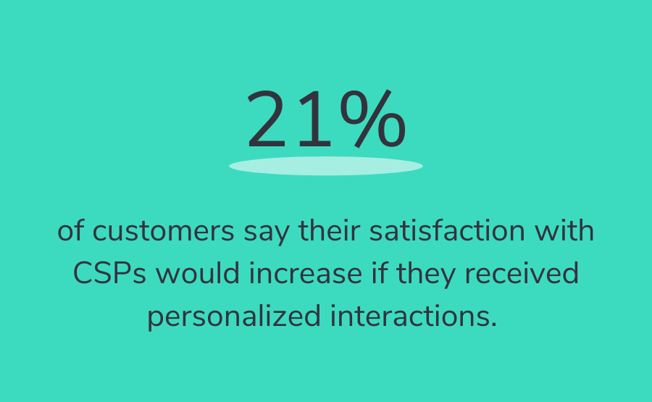 Customers that feel appreciated and understood are more likely to purchase from you.
The final must-have is real-time information and consistency across channels.
Your customers want you to have all the accurate information about their past interactions and preferences so you can provide a proactive customer service.
Customer-centricity is now essential to meet expectations and beat churn. And with a 2% increase in retention lowering costs by as much as 10%, it's well worth the effort.
2. Stop relying on legacy and siloed systems
Your customers compare your service to the experience they get with the likes of Google and Amazon.
So to thrive in B2B, you need to ace your digital game by delivering the same standard of service as digital-born businesses.
76% of telecom customers are satisfied with digital-only journeys, compared with 57% for traditional channels.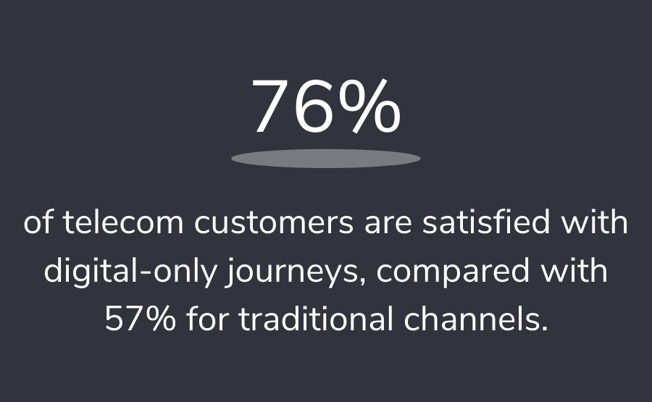 But delivering a seamless digital service is near impossible if you're working with legacy tech.
Reliance on a stack of different systems leads to inaccuracy, sluggish service and inconsistent data. Vertical solutions and rigid systems can't deliver the digital-first experiences you need to compete with agile digital competitors.
And disjointed systems mean you only get limited visibility of your customer and commercial data instead of a single source of truth.
Leaner operating systems are the way forward.
Replacing these siloed systems will help you open up digital channels that promote self-service and automation.
Not sure where to start?
A Configure Price Quote (CPQ) software integrated with a Product Catalog, Order Management system and a Contract Lifecycle Management system can form your tech foundations to thrive in B2B.
3. Balancing the book – CapEx to OpEx
Declining average revenue per user (ARPU) and sluggish revenue growth make balancing the books a challenge for CSPs.
But it's a problem you can overcome.
The solution? Trade Capital Expenditure (CapEx) for Operational Expenditure (OpEx).
By switching your IT to a cloud-based technology solution 'as a service' you can shift your IT spending from massive investments to pay-as-you-go.
These smaller costs mean you can get a handle on your IT expenses so your IT department won't be seen as a cost centre.
This switch also means you get to offload the burden of managing your tech to a third party – giving your IT team more time to spend innovating and exploring new opportunities.
With an OpEx model, your IT ops can scale in line with demand so you don't waste your cash on idle technology and excess capacity.
But implementing this cloud-based technology won't solve all your problems straight away.
You still need a solid customer base to get your revenues up to balance those books.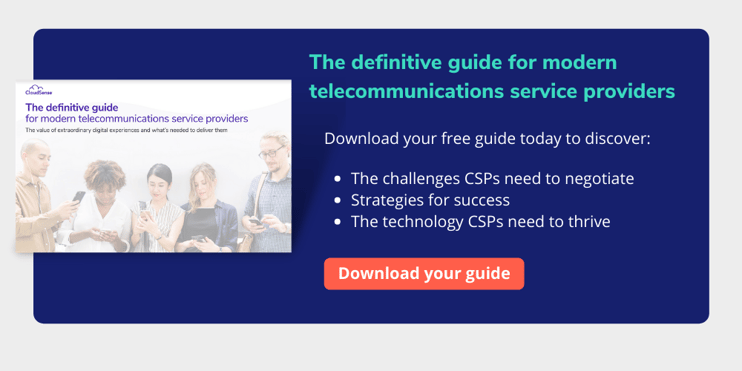 4. Slow time to market
Communications products are similar.
So the time it takes for you to get fresh products out to the market could be a dealbreaker.
Unfortunately, this is something a lot of CSPs struggle with.
Thanks to technical systems and processes, many pricing managers and marketing teams have their hands tied, so they can't capitalize on new opportunities fast.
Because of their complexity, legacy systems fall short on flexibility so it's costly and time-consuming to make changes and add new features.
Customer Relationship Management (CRM) solutions often lack end-to-end visibility across functions and touch points. Making it more difficult to deliver products and services quickly enough to gain competitive advantage.
But there's a simple solution.
A combination of systems including CPQ and a Product Catalog.
With a powerful CPQ engine you can make your pricing, sales and product catalog management easy and cost-effective.
And a single Product Catalog means you can roll out new products and services at speed with clicks and configuration – not hardcode and customization.
Using a single Product Catalog, O2 can quickly introduce new solutions and product bundles using a simple user interface.
So by using the right technology you can serve your customers proactively to be the first to market and thrive in B2B.
5. Bridge the skills gap
To make the most of game-changing tech, CSPs need the right people with the right skills.
51% of Telcos believe the lack of digital skills is a top transformation barrier.
So how do you solve this skills gap challenge?
Digital Service Providers need people that know how to handle data, maintain machine learning and create data models.
But this leads us to another question – how do you find people with these skills?
It's not easy. Especially when you have tech leaders snapping up the top talent.
These roles can also be expensive to fill, so why not start at home? Look at how you can train the people you already have.
But, to really get results, you need to go beyond technical skills.
To make the most of your data and thrive in B2B, you need to fully understand the problems you want to solve, what new opportunities you want to offer and the kind of experiences you want to provide.
Otherwise the value of these technological skills will be limited.
Tackle these challenges to cash in on opportunities
The challenges we've covered put a chokehold on your productivity and revenue growth.
So you want to solve them as soon as you can.
It boils down to combining digital-first experiences, the right technology and the right skill sets to drive your objectives forward.
With a few tweaks to your strategy and tech set up, your business will be thriving in no time.
For more strategies for Telecommunications success, plus the technology that can help you deliver them, check out our free definitive guide for modern communication service providers.