How we consume media, the delivery of media and the way we pay for media is always changing.
So it's no surprise the industry is undergoing major transformation with new trends, new processes and new technologies.
Take digital advertising, for example: two-thirds of total advertising spend is expected to come from digital advertising in 2021. This shift alone means you're faced with an increasingly complex digital ad ecosystem to navigate.
These changes will drive plenty of opportunities for growth, but it can be difficult to keep up without sacrificing your costs.
Our recent webinar with Adweek, 'How publishers are transforming their sales operations: doubling reach without doubling costs', explores how you can continue to grow ad sales without impacting your bottom line.
Watch the webinar on-demand or for the key insights, keep reading.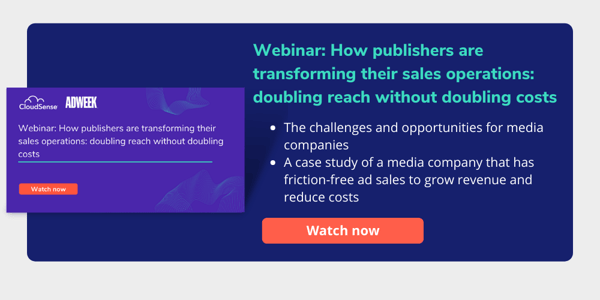 Speakers & topics
First off, here's a summary of the speakers:
Alex Fuller, Co-Founder & CTO, CloudSense
Under Alex's leadership CloudSense has led the enterprise market in transformational cloud products by solving complex technology problems with innovative development approaches.
Marvin Walstra, Manager, Back Office Applications, DPG Online Services
Marvin manages a team of application specialists at DPG Online Services, part of DPG Media, the largest media group in the Netherlands. He is responsible for operational management of all back-office applications.
The webinar explores:
The changing Ad Sales landscape
The challenges and opportunities for media companies
Strategies to grow revenue and control costs
A case study of a media company that has developed friction-free ad sales to grow revenue and reduce costs
The changing ad sales landscape
Alex Fuller, Co-Founder & CTO, CloudSense started the webinar by exploring the main ways the media industry is changing, the pain points these pose for publishers and the opportunities media companies can capitalize on with the right strategies.
The main points covered are summarized in this short presentation below: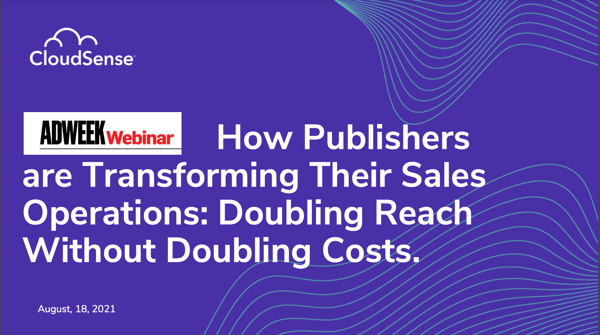 DPG Online Services replaced their systems with a new ad sales platform to improve customer experience and reduce their costs
DPG Online Services, part of DPG Media is an online company based in the Netherlands comprising four business units, each addressing a specific market: labor, technology, finance and automotive.
In 2016, DPG Online Services set out to replace its ad sales solution so it could continue to effectively engage these audiences across multiple channels, while giving advertisers and employees a more convenient experience.
Marvin Walstra, Manager, Back Office Applications, DPG Online Services, begins by exploring the 3 goals that drove the transformation of their end-to-end processes.
"The first one was simply to replace the system for one that was a better fit for purpose. The second goal was that we wanted to have a solution that was flexible by configuration, not by software coding. The third was to bring the costs better in balance with the benefits and look at process steps that we could automate."
Marvin then delved into the steps DPG went through to get a single hub for advertising:
"After we had investigated all the requirements, we started scoping the whole project together with CloudSense. This was done in a waterfall approach, but the realisation of the project was done in an iterative way, via various sprints. After each sprint we came together to do demos and testing so we could get instant feedback.
One of the final steps is the user acceptance testing. In parallel to that, we were still in business, so we had an operational system with a lot of data in it, so we had the migration of that data towards the new CloudSense video platform environment, and lastly we did various dry runs in getting the system live. We then went live over a weekend, so from the next Monday we were no longer using the old system but the new system."
DPG found that automation and self-service provided a more flexible system and boosted efficiencies across the full customer lifecycle.
With our new platform, "all the orders that were booked via the eCommerce channel were now automatically ingested into the media platform and booked as an order. The invoices were created and that whole process was mainly done from that moment on automatically."
With the introduction of the CloudSense Media Platform "the invoicing was automated completely; so from the moment the order was booked, an invoice is created and sent off by email to a customer, whether it's a one off invoice or an instalment invoice.
We also made a step there to have the integration with the general ledger system that was already in place, also automated. Meaning that once we created the invoice and sent it off to the customer via email that same information was automatically transferred to the general ledger system. So that again saved a lot of manual steps and manual labour, and therefore a reduction in costs and time."
Marvin also shared a few numbers on the cost reductions they secured.
"If you only look at the invoicing part then the numbers I have were half to almost 1 FTE of manual effort that was reduced by automating that process. If you talk about the ecommerce channel where we transferred the ecommerce orders in the OMS and had invoices generated, that also was at least half an FTE of reduction in manual labor."
Aside from these cost savings, DPG reduced their manual errors and had the flexibility to make changes via configuration, so lead time on launching new products or commercial packages went from about two weeks to almost one hour.
So with a new all-in-one solution, replacing time-consuming manual processes with automation and self-service, DPG Online Services were able to serve their customers faster and more accurately, whilst squeezing costs.
Watch the full webinar recording and learn more on how market leaders are transforming their end-to-end ad sales cycle to elevate their growth and improve customer experience, whilst reducing costs: