The B2B Telco market sits on the cusp of an exciting new era.
There are golden opportunities for any CSP set up to support your B2B customers' ambitions with 5G and cloud services.
So much so that over the next five to 10 years, over 75% of CSPs expect more than half of their revenue to come from B2B.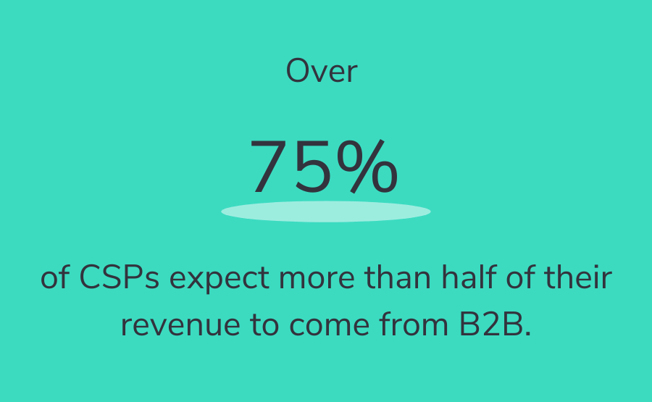 But to take advantage of the booming B2B enterprise market, you need the right strategies and systems.
Over the next couple of months, we'll be exploring ways you can make the most of the B2B opportunity.
This will include a deep dive on how you can monetize 5G, plus our virtual panel with Total Telecom, 'Capturing value in the booming B2B enterprise market'.
First, let's kick-off with a look at the foundations that will underpin your B2B growth.
Meet digital-first demand by simplifying your systems
Digital has to be the bedrock of your strategy.
McKinsey says top-performing CSPs today are already using 70% to 80% end-to-end automation, and that a target of fulfilling 80% to 90% of service requests digitally is realistic.
Your B2B customers expect the same intuitive digital experiences they get when they're off the clock.
They want to be able to take control of any part of their journey through digital self-service, but also have the option to fall back on your people's expertise.
What's more, businesses not only expect a B2C-esque low-touch experience, but also want to provide partners an easy to use digital platform to quote and deliver from.
And it isn't just your customers and partners who expect digital-first experiences.
Your people also need the right digital tools and automated processes to increase job satisfaction and optimize their output.
But this level of automation and experience will remain out of reach if you're relying on a complex collection of fragmented legacy and in-house systems.
Instead, you need to streamline systems into a single platform that centralizes AI and BI and provides rules and automated processes – all the way from product ideation to fulfillment.
Prioritize customer lifetime value (CLV)
The rise of the subscription model in society is indicative of a shift.
An acknowledgement that long-term success lies in loyalty built on continually excellent experiences. Experiences that cultivate customer lifetime value.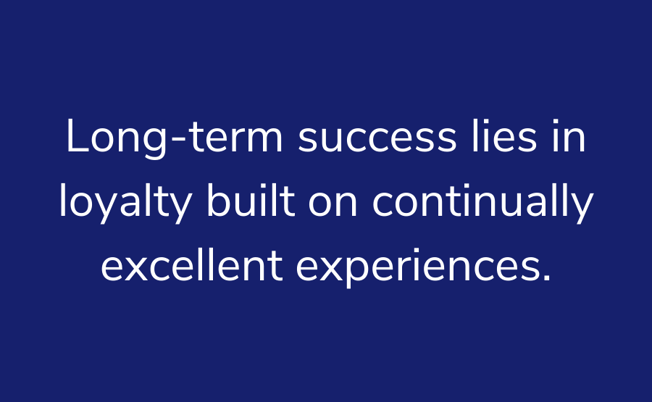 So, what steps can you take to create ongoing experiences that keep customers engaged and raise your revenues?
First, delivering on your customer promise with seamless fulfillment for every product and service needs to be table stakes. To master the troublesome trio of NPS, CLV and churn, CSPs need to continually engage customers through personalized buying experiences.
On top of these essentials, core strategies to grow CLV include:
Selling more of the right products at the right time with relevant up-sell and cross-sells throughout the customer lifetime
Providing tailored customer journeys for changes and care to boost customer satisfaction across every channel
Adding revenue, not losing it, during contract changes
Fast and accurate billing to eliminate the cost of errors, including after change
Ensuring customers are always aware of new and existing offerings and seek to engage with you for additional value
Introducing third party products in your bundles to generate additional revenue
Automated retention processes and ongoing price plan recommendations.
Unshackle your commercial teams
The ability to innovate commercially will sit at the heart of any CSP aiming to compete with agile digital-born businesses.
Whether it's to respond to changing markets, competitor pressure or swiftly satisfy customer needs, your business needs to be nimble.
Fleet-footed CSPs have one thing in common: they arm commercial teams with systems that let them innovate (without the need to bring in IT for help).
To achieve this, your systems need to be flexible. Both to allow the broadest array of offerings possible, and to enable changes in the commercial layer, free from the constraints of your technical layer.
To cater for digital-first experiences and maintain speed to market your commercial offers need to be designed once but launched across multiple channels. This also means you can provide a coherent omnichannel experience and give your business centralized control.
On top of this, to ensure your commercial offerings are tuned to customer needs, they need to be created off the back of insights from real-time customer and commercial data.
Make the most of revenue opportunities
While many CSP's revenues are stalling, some are bucking the trend and boosting revenues.
Here are some key strategies you can swipe to book more B2B revenue:
Gather accurate and complete real-time data to inform up-sells, cross-sells and increase retention.


Get a consistent view of the full commercial catalog across all teams and channels to make inventory availability clear at all times.


Use machine learning, AI and automation to maximize order value through recommended, personalized and relevant commercial offerings.


Develop mature unassisted buying channels to increase orders on self-service and enable customer service.


Streamline the buying and selling process so your sales team spend more time selling and adding value, not doing admin.


Get to market first and be quick to adapt to any market changes.



For a deeper dive into making the most of your B2B growth opportunities watch our expert panel explore how the B2B market is evolving and adapting to the digital age to deliver a whole host of new opportunities for CSPs. Some key topics up for discussion include:
B2B as the key growth engine for telcos in the digital age
Building a B2B portfolio that will drive your digital revenues
Service innovation and bespoke solutions
Ensuring your organization has the right skills and tools to succeed.