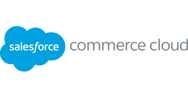 CloudSense, the proven Commerce and Subscriber Management platform, is embarking on a certification process to become a Salesforce Commerce Cloud Technology Partner.
The partnership and certification process will see CloudSense continue to innovate on Commerce Cloud to add complementary and industry-specific capabilities for customers.
100% Salesforce-native, CloudSense's proven Commerce platform – comprising Configure Price Quote (CPQ), Product Catalog, Commercial Process Management, Pricing Management, Contract Lifecycle Management and Digital Commerce – extends the Salesforce platform to redefine the possibilities of commerce.
Alex Fuller, CloudSense's Chief Technology Officer, said,
As CloudSense embarks on its formal certification process in collaboration with Salesforce, the initial milestone sees our omnichannel Guided Selling Solution integrate with Commerce Cloud. This solution unifies commercial processes across all Salesforce clouds, leveraging artificial intelligence & business intelligence to deliver next best actions, offers and pricing for industries.
By harnessing Salesforce and CloudSense, customers across industries are empowered to leverage Commerce Cloud to provide next-generation experiences, while also boosting revenues and operational efficiencies.