Ever clicked on a company's website only to be sent to a blank loading page?
Or been faced with a lengthy online checkout?
If so, you've experienced customer friction.
Whether it's a slow site, dead-end or lousy navigation, eCommerce friction leads to exits, bounces and abandonments.
Today, your customers care just as much about avoiding these friction-full experiences as they do about your product or price. It's all about being easy to do business with.
So, if you can provide convenient experiences – including fast load times, smooth journeys and personalized experiences –you'll be rewarded with customers' loyalty and increased revenues.
To help you do this, we've put together 8 sure-fire ways to reduce friction from your Digital Commerce store.
1. Speed up your site
The speed of your site is the first thing your customers notice.
It's your chance to make a good first impression.
Fast websites are considered to be more reliable and professional. And a speedy website also means your customer is more likely to find you in the first place:
Google started using site speed as a ranking signal way back in 2010, and it continues to be a top determinant on where your page shows up on results.
Webpages are expected to load in the blink of an eye. So if your load time is longer than a couple of seconds, you're missing out on sales: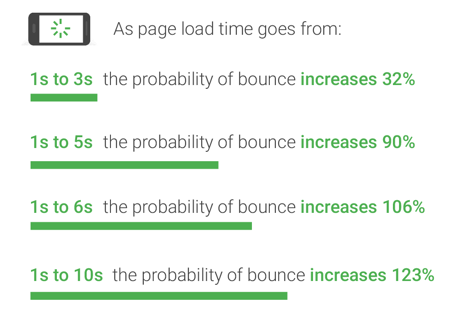 So, what steps can you take to improve?
Scalable cloud-based platforms can handle higher volumes of customers and reduce call outs to your back-end – speeding up your page speed.
For a quick fix, evaluate your plugins, reduce image sizes and compress your content to accelerate your store's load time. The faster the better.
2. Reduce friction with low-click journeys
It's not just what you sell, it's the way that you sell it.
Just as your customers want your site to load rapidly, they also want to find what they're looking for in as few clicks as possible.
94% of consumers say your website must be easy to navigate.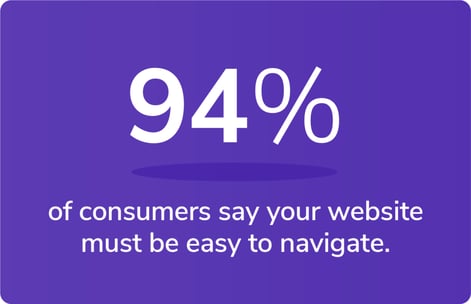 A low-click journey eases friction, making the customer journey convenient, concise and clear.
Take a leaf out of Amazon's book.
Amazon's 1-click order system is the lowest click journey you could ask for. It's literally as easy as buying at the click of a button.
But there's no magical number of how many clicks to stick to. Focus on an intuitive navigation and consistent design to make it easy for customers to find the information they need.
The less effort for your customer, the better.
3. Personalize your customer experience
80% of customers say they are more likely to do business with a company if it offers personalized experiences.
And personalization is another essential step in removing friction from your cx.
It keeps your offering relevant and helps you stand out from the mass marketing your customer is bombarded with daily.
The cornerstone of a personalized experience is data collection.
You need a hub where you can combine both your customer and commercial data. From there, AI can access your data to help you power tailored experiences.
A personalized welcome or product recommendation can go a long way. It fosters a long-term relationship between you and your customers by showing you care about their business. It makes it easier for them to find and buy the product or service they want.
And, it increases customer lifetime value and average orders too. Gartner expects a 15% profit boost for those who successfully personalize in eCommerce.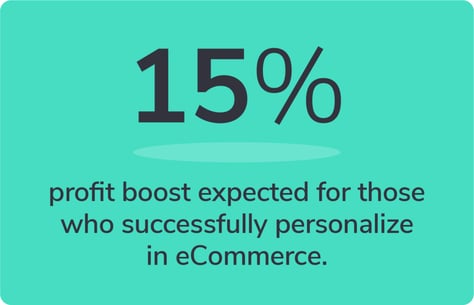 4. Make your Digital Commerce store mobile-first
Globally, 70% of people are spending more time on their smartphone.
And they're not just using smartphones for browsing, 35% of U.S. consumers use only their mobile device to buy online.
So to reduce friction and be available on your customers' terms, your store needs to be mobile-first.
Optimizing for mobile means you both cater for customer behavior and make the most of your traffic, increasing your conversions in the process.
5. Cater to cross-device buyers
As we've just covered, mobile browsing and buying is on the increase. But your customers are still liable to switch devices.
90% of people switch between screens to complete tasks.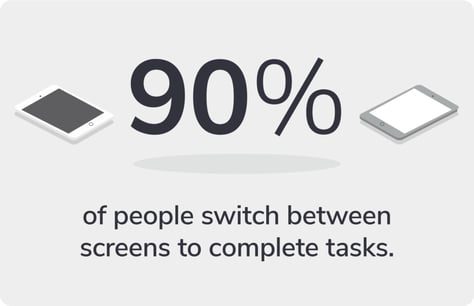 Customers have become hyper-connected, cross-device browsers who expect to have seamless access to your Digital Commerce store across every channel.
If their journey stops dead when they jump across devices, they'll lose interest in the purchase.
As digital becomes more dominant in our lives, it's time to optimize your cross-device capabilities and reduce friction from your cx.
6. Prioritize flexible subscriptions
Subscriptions are inherently convenient.
9 in 10 UK consumers are now subscribers.
And 80% of customers are demanding new consumption models including subscribing and sharing.
Access over ownership is becoming the new normal.
Subscription cuts the friction of paying over and over, and provides autopilot simplicity of transactions.
Flexible subscriptions are even better. Customers should be able to combine the products or services they want, into a subscription that suits them.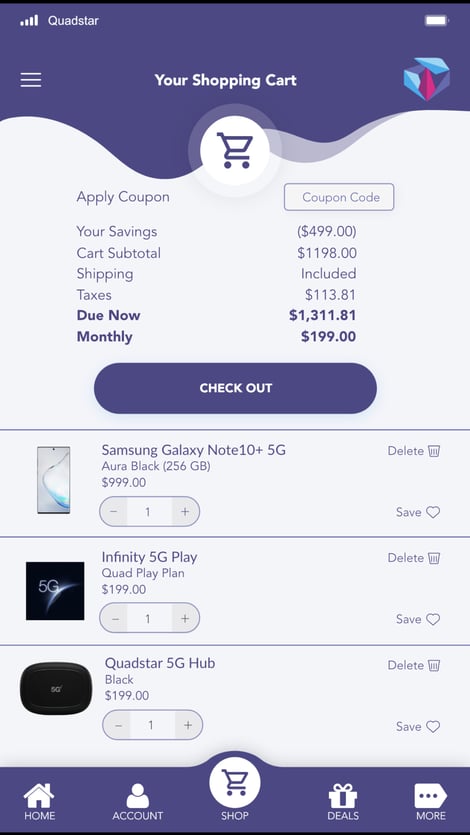 As we've all experienced with Covid-19, people's plans and situations can change in the blink of an eye. So it's just as important that subscriptions are easy to change and manage online.
7. Get your checkout right
Friction in the checkout ruins your conversion rates.
The average shopping cart abandonment rate sits at just under 70%. The lion's share of the blame falls to the checkout process.
87% of consumers say a "complicated" checkout process will make them abandon their shopping cart.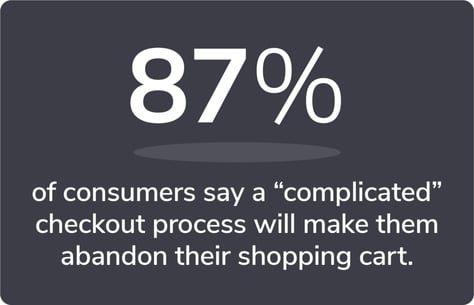 The simplest way to fix this? Ask for less and customers buy more.
Here are a few more features to add to your online checkout and make your customers' journey more convenient:
A progress indicator telling your customers where they are in the checkout process.

A guest checkout option – 23% of users abandon their shopping cart if they have to create a

new user account.

Security features to assure customers their information is 100% safe and secure.

Multiple ways to pay from Google Wallet to Amazon Pay.
Don't make it difficult for your customers at the final hurdle. Reduce friction by getting your shoppers through checkout as swiftly as possible.
8. Deliver on what you sold – focus on post purchase & fulfillment
86% of customers say the post-purchase experience is fundamental to their decision to buy again.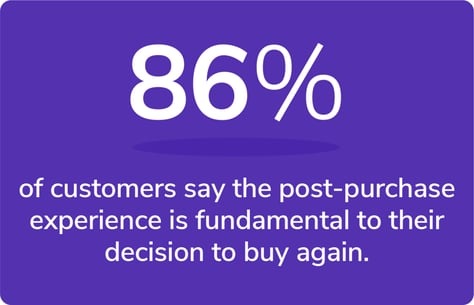 And your recurring customers are more valuable than one-off buyers:
Post-purchase friction leaves you susceptible to losing the precious customers you've worked so hard to get.
Don't tarnish your experience. Deliver on your customer promise by continually fulfilling your product and offer easy access to support to nurture your relationships with your customers.
After all, loyal customers are 5 times more likely to purchase again and 4 times more likely to refer a friend.
Reduce friction and make convenience your Digital Commerce mantra
After Covid-19 increased digital demand is the norm.
75% of people using digital channels for the first time say they'll continue to use them when things return to "normal."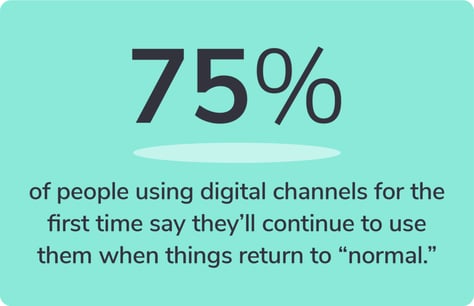 Your digital experience will go a long way to determining whether customers (new and old) do business with your brand.
If your customer journey is full of roadblocks and friction you'll struggle to capitalize on increased demand. On the other hand, if you invest in your experience, there's potential to double your revenue within 36 months.
By using this blog as a guide, you can focus on easing points of friction to make your customers' journey more convenient.
Create a hassle-free experience from beginning to end and you'll be richly rewarded.