Fulfilling your entire ad sales cycle means you'll need to integrate with other systems. And as digital advertising has boomed, so has the amount of ad tech available.
This proliferation of ad tech means it seems like there's a different system for everything. But more systems do not always equate to better performance.
Quite the opposite.
Many media businesses are now stuck with a set of poorly integrated systems, which only breed errors and waste time through manual processes, double keying and inconsistent data.
So rather than helping your people add value as trusted advisors, multiple systems can take away their focus, time and energy. And that's before we get to costs – from training your people, to footing spiralling maintenance bills.
We've explored some issues that arise if you rely on an overabundance of ad tech, and of course how to solve them.
1. Lack of visibility
If you have an excessive number of tech systems with overlapping databases, often patchworked together, you can't get a clear view of business performance.
You're left with error-prone data and inaccurate orders which reflects badly on your customer experience. Your customers won't get updates on their ad performance, resolve their issues quickly or be able to track ad revenue in real time.
It also leaves you with inaccurate revenue forecasting and reporting so you can't set goals, track performance and make informed decisions for your business and customers.
You need an integrated platform to align your digital advertising, supporting functions and the wider advertising ecosystem to have the instant visibility on metrics, targets and the reporting needed to run a better business.
By using a single platform to book, publish and track all advertising functions, Newsday has cut the use of manual processes such as excel and email, and sped up its entire sales cycle.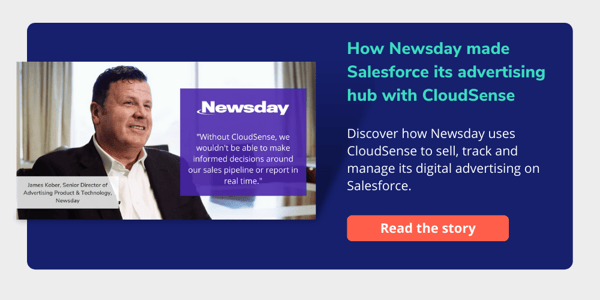 2. Sales versus Admin
Using an overabundance of tech is an inefficient way to fulfill your ad sales cycle.
Swivel-chair processes mean your employees quickly become bogged down navigating disjointed processes and manually accessing the wider ecosystem of ad servers – increasing errors and stunting productivity.
And if any of your customers want to make changes or cancel orders, your employees have to sift through mounds of data from different systems to reconcile this information.
This often takes up a lot of time, regardless of whether it's a small change or not. Time that could be used to focus on sales and customers.
But this inefficiency will cost you. Companies lose 20 to 30% in revenue every year due to inefficiencies.
And over 80% of business leaders agreed that problems "arise because they have different internal systems/applications that don't 'talk' to each other", while 43% of workers surveyed said they often have to copy/paste or rekey information.
So by simplifying, automating and streamlining your software, you'll drive up efficiency – from eliminating human error to speeding up your business processes and reducing your operational costs.
The money and time you save could be spent on your sales, marketing, customer service, or customer experience initiatives.
By using automation and self-service capabilities, DPG Media has reduced friction for customers and their employees.
3. Chasing the truth
The quality of your data quickly dwindles when you're constantly moving between different systems. Obtaining this single source of truth to better understand your business and customers is vital.
This can impact your ability to produce winning advertising proposals and optimized programmatic guaranteed media buying strategies.
Over 60% of organisations indicated that too many data sources and inconsistent data was their top data quality worry.
So if you're using a hodgepodge of software solutions, your people are more than likely to enter data incorrectly, sometimes doubling and omitting data.
Data is important to get right – according to a big data survey by Accenture, 89% of executives rate data as "very" or "extremely" important, as it will "revolutionize operations the same way the internet did".
And research from Gartner found that the average cost of poor data quality on businesses amounts to anywhere between $9.7 million and $14.2 million annually.
So to minimize the risk of running into costs like these, you're better off keeping your systems simple.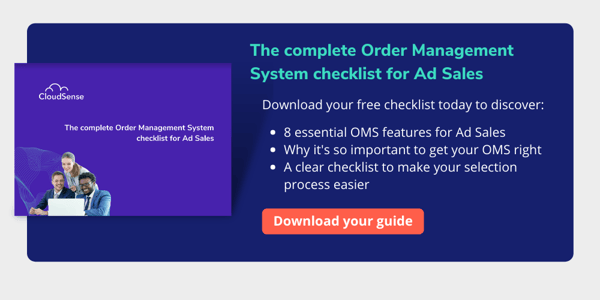 4. Cost to run
The more ad tech you have, the more maintenance you need to fork out for. Maintenance can be anything from training your employees, to tech updates and fixes.
In 2020, the average company in the U.S. spent $1,111 per employee on training costs.
And these costs creep up the more systems you add to your tech stack.
Aside from training, your tech will always require new versions of software to stay up-to-date to meet the latest customer demands.
Gartner reports that 91% of IT staff time is spent on software maintenance rather than on innovation. So you want a single advertising hub to reduce your reliance on IT and keep your maintenance costs to a minimum.
Conclusion
You don't have the time to upkeep and manage your integrations while also looking after your customers and their advertising.
Even if you take a more selective approach to your ad tech, you still need to seamlessly integrate your ad solutions for frictionless user experiences.
You need a central platform that integrates with your preferred systems to both deliver and monitor your entire multimedia ad lifecycle. Whether it's your ad server, billing or production system, you need all your systems to link back to your centralized system of record.
Finding a flexible Media-specific Order Management System that easily accommodates the wider advertising ecosystem, including GAM, demand and supply side ad platforms (such as Magnite), is the smartest way to meet the demands of both today and tomorrow's media market.
Integrate this efficiently with your CRM and you won't fall over with too much ad tech.