Digital Commerce will play a big part in your business' future.
95% of purchases are expected to be facilitated by online channels by 2040.
So giving your customers digital access is critical. But, a digital storefront alone won't satisfy customer expectations.
When it comes to the performance of your online channels – speed and scalability are essential.
Browsers are impatient. They're accustomed to friction-free, lightning-fast experiences.
So you need a platform that will meet these expectations.
We've explored why speed and scale are vital building blocks to a convenient Digital Commerce experience.
Make speed a priority
It's always a challenge to balance competing customer demands. But getting your site speed up to scratch should sit at the top of your priority list.
By investing in a speedy website, you sow the seeds for customer loyalty and satisfaction.
Let's delve into why a fast site is essential.
Faster site speed = more conversions
In short, speed equals revenue.
A 1 second delay in page response can result in a 7% reduction in conversions.
And 57% of customers will abandon your site if they have to wait 3 seconds or longer for a page to load.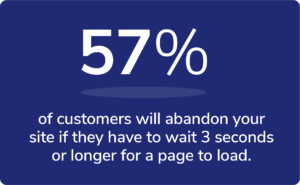 You're losing sales with every second that goes by.
In a DoubleClick by Google study, sites loading within 5 seconds had 70% longer sessions, 35% lower bounce rates, and 25% higher ad viewability than sites at 19 seconds.
If your content gradually trickles onto the page, your users are likely to click straight off.
Whether you're B2C or B2B, speed is just as important
82% of business buyers want the same experience as when they're buying for themselves.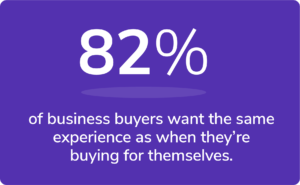 So, whether your customers are B2C or B2B, they expect the same speed, regardless of complexity or volume.
To be the easiest and quickest to do business with you need to be able to process complex product configurations, fast.
Customers won't settle for anything less than the experience they've become accustomed to with top retailers – putting increasing pressure on your site to perform.
A fast site helps you be seen
Aside from missing the mark on customer expectations and conversions, a slow site will impact the success of your business in other ways.
For your sales to go up, people need to find you.
Google wants their browsers to have the best experience possible, so they use site load times as a factor to determine where sites rank on search pages.
In 2006, Google's search engine results pages unexpectedly began to load 0.5 seconds more slowly — and traffic promptly dropped by 20%.
For a quick fix, evaluate your plugins and compress your content.
For every second you trim off your site's load time, your customers are more willing to spend their money with you.
What about when customers are on your site?
When we talk about speed, we aren't just talking about how long it takes for your site to load.
Today's customers search, download, pay and listen to music all in one go. So why should their Telecommunications company make them complete multiple steps for searching, purchasing, payment and activation?
Faster mobile-phone sign-ups raised a Communications company's customer satisfaction by 20% and reduced costs by 30%.
A fast and simplified customer journey gets results quickly.
Cater for mobile-first buyers
Your customers are increasingly mobile-first – mobile commerce is projected to grow 68% by 2022.
Mobile conversion falls by up to 20% for every second it takes a page to load.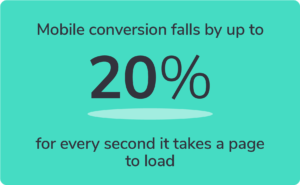 Catering for your customers' browsing behavior requires fast and easy to navigate low-click customer journeys.
Your digital store needs to be built to scale
The success of your digital store doesn't just depend on speed. You need your digital channels built to scale.
As your web traffic increases, you need to be ready to effortlessly scale up your operation as it grows.
Avoid downtime to boost your reliability
Scalable cloud-based platforms can handle higher volumes of customers to give you the foundations to grow year-over-year.
You'll be able to perform through every extreme and handle peaks in traffic – without spoiling performance.
This reliability is essential.
81% of businesses surveyed said that just 60 minutes of downtime can cost them over $300,000.
The best websites are scalable. How often do you see the likes of Amazon crash? No, us neither. It's not an option if you want to give customers that all important convenient experience.
Scalability helps deliver a seamless experience across all channels
No business can afford to suffer at the hands of an inadequate digital infrastructure.
79% of people wouldn't return to a site that had previously performed poorly for them. So you need to make a good impression off the bat.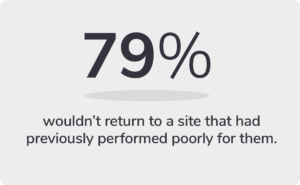 Avoid dreaded website crashes, or 'we're experiencing high volumes at the moment' messages with a site that scales, on every channel.
Because 75% of customers expect consistent experiences across multiple channels.
So you need scalability in your arsenal to offer the same experience – regardless of which channel your customers choose to use.
What's more, a scalable digital channel will take pressure off your call center when you're experiencing higher demand.
Set yourself up for success with a speedy and scalable site
Getting your site's speed and scalability where you want them can be a challenge.
But the results will be worth it.
With a speedy and scalable website, you'll see more leads, higher conversions, higher engagement and a better customer experience.
Find a platform that's built to scale with your business and fast enough to meet the needs of your customers – now and in the future.
With people relying more than ever on digital channels, customer behavior has changed. To explore your customers' new digital habits, as well as how your business can adapt to them, check out this blog: https://www.cloudsense.com/new-habits-go-digital-now/