It's safe to say that Utilities companies aren't known for their stellar customer experience (cx). In fact, Utilities lag behind other industries when it comes to digital experience.
But customers are demanding more and more convenience wherever possible. And this means that energy companies need to focus on customer-centric solutions now more than ever.
After all, companies that lead in customer experience outperform laggards by nearly 80%, and 84% of companies that work to improve their customer experience report an increase in their revenue.
But what exactly are your customers' expectations and how can you meet them?
Our recent webinar with Energy Global, 'Measuring up to customer expectations in today's decentralized, decarbonized and digital-first energy world', explores how you can get your cx up to scratch.
Watch the webinar for free or for the key insights, keep reading.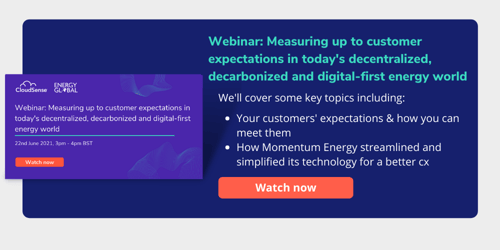 Speakers & topics
First off, here's a summary of the speakers:
Francisco is an experienced energy consultant and analyst skilled in Gas, Power, LNG, Oil and Refined Products, Management, Trading, Business Intelligence, and Risk Management.
Jonathan is a highly skilled consultant with nearly 30 years experience managing complex projects for sophisticated business. A CloudSense services leader for over 10 years.
The webinar explores:
Customer expectations and the challenges for energy retailers
How technology can help or hinder
A case study of an energy company that has streamlined and simplified its technology and processes to give its customers a better experience
Customer expectations and the challenges for energy retailers

Francisco Javier Marín Fernández, Director Solution Consulting, CloudSense kicked off the webinar by exploring today's customers' expectations. These expectations split into 3 main categories:

1. Quick and easy customer journeys

Friction is anything that hinders the customer journey, this can be anything from long wait times and high shipping costs to customer service problems and order inaccuracies. Regardless of the channel – whether that's self-service portals or large enterprise portals – your interactions with your customers should be quick & easy.

2. Pricing simplicity and transparency


In today's competitive market it's important to offer the best price possible. It's crucial to allow customers to change and switch tariffs in a simple way – providing ultimate flexibility to your customers.

3. Meeting environmental and ethical expectations


Your customers expect environmentally-friendly products so many Utilities companies are adopting a green energy approach.

These expectations pose a challenge for energy retailers especially as the market is becoming more complex, competitive and sophisticated in terms of products and customer journeys. On top of this, there's unrelenting operational pressure to meet all these expectations without squeezing margins.
How technology can help or hinder
Legacy and siloed systems make it nearly impossible to offer the kind of experiences your customers have been accustomed to from the likes of Amazon. Monolithic platforms mean providers find it "more difficult to be agile and change processes to be more customer-centric", said Francisco Javier Marín Fernández.
But there's a shift – "we're seeing that industries are moving away from this concept and becoming more modular to achieve better and faster transformation".
This modular architecture facilitates digital transformation by making it quick & easy to make MACD requests. So by replacing these siloed systems, you open up digital channels that promote self-service and automation.
Francisco Javier Marín Fernández explored how energy providers could reinvent their technology to be in a better position to measure up to the current customer expectations by highlighting the key benefits of our end-to-end sales platform – from Product Catalog all the way to Subscriber Management.
"CloudSense provides a full set of capabilities and functionalities to allow our energy players to manage a full set of processes".
For example, the Product Catalog can "manage complex products, create offers and complex bundles", so energy companies can manage the complexities of today's market.
And with Configure Price Quote, energy providers can close complex deals faster whilst offering convenient experiences. "This is not as familiar with energy players but sales agents can focus on sales, instead of wasting time on other processes".
Momentum Energy has started a 'complete business reinvention of its systems to deliver better outcomes for its customers'.
Momentum Energy, owned by Hydro Tasmania, Australia's largest generator of renewable energy, is a perfect example of an energy company that has completely reinvented their cx by simplifying their technology.
Their purpose is to make energy human, by delivering value to customers while making it simple. To achieve this customer-centric solution, Momentum Energy chose the CloudSense Platform to work simultaneously with Salesforce to provide a single integrated platform of customer engagement.
They replaced their custom systems with streamlined and automated processes for improved efficiency, sales conversion and customer satisfaction.
"Automated online sales and order management processes have saved time, reduced errors and cut costs, while improving the customer journey. In fact, order fulfilment time has dropped by 94%", said Jonathan Webber, VP Services, CloudSense.
"Momentum Energy's online self-service offering now delivers the convenience and flexibility today's digital-first customers expect. They saw an increase of online sales by 10% in the week after launch."
"And the reduction in product launch time to days instead of months was demonstrated with 4 products being launched within the first 10 weeks of the system going live."
Clearly today's customer expectations are putting a lot of pressure on energy providers to step up their game, but Momentum Energy's story so far highlights how the right technology can make it much easier to measure up.
Watch the full webinar recording and learn more on how market leaders are transforming their technology and doubling down on their customer experience here: