Your Utilities company is subject to a surging current of change. (First and last pun, we promise.)
Even in North America's more strictly regulated Energy system, US and Canadian Utilities aren't immune to the factors forcing Energy providers globally to reinvent their technology, processes and culture.
It's not yet a case of adapt or die – customers big and small need energy.
But it is a case of adapt to thrive.
Because today, whether you're digitizing to satisfy customer expectations, striving to be more efficient and decarbonize, or moving to meet regulatory mandates – things are changing. And quickly.
To meet these challenges and keep on growing, Utilities are turning to technology. More specifically, how technology can help you use the abundance of data now available to you.
Let's take a closer look at some of the trends in Energy and how combining technology and data can help you satisfy them.
What do your customers expect?
It makes sense to start with what your customers want from you.
As you know, digitization has led to a considerable shift in customer expectations.
A growing portion of your customers expect the same personalized service from their Utility as they get from their retailers and banks.
This change has seen online become customers' channel of choice. But no matter how or when your customers decide to reach you, they expect a personalized, joined-up and convenient experience with easy access to information, advice or services.
Your evolving customer base's desires are typified by the fastest growing customer segment – millennials.
Accenture found nearly 80% of millenials would consider switching energy providers if they aren't given a seamless digital experience. If this statistic is even remotely indicative of the rest of your customer base, meeting changing customer expectations has to be the priority.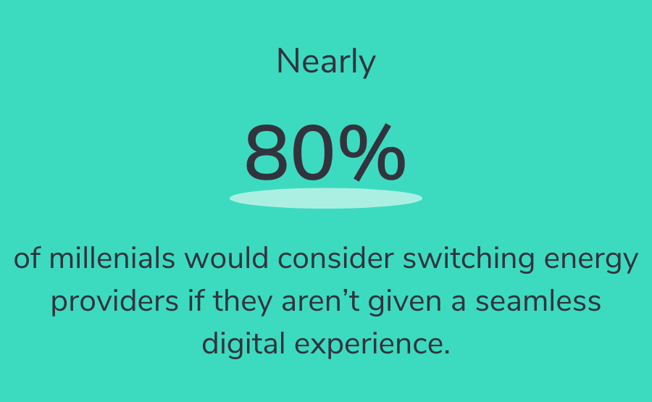 So how do you go about doing this?
Setting your Utility up to make the most of the smart revolution is a good place to start...
Are you ready for the smart revolution?
Smart businesses, smart homes, smart meters, smart appliances – you get the idea.
The buzz around the application of 'smart' technology in Utilities is only getting louder.
This smart Energy revolution is founded on, among other things, the smart grid.
Smart grids provide numerous benefits – from improving communication between you and your customers, to enhancing customer service and reducing carbon emissions.
Now annual smart grid investments in the US alone are expected to rise to $13.8 billion in 2024.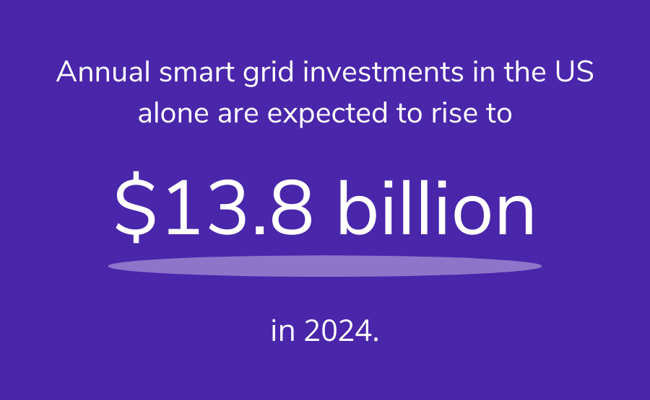 This ongoing modernization of Energy infrastructure promises better reliability, affordability and efficiency.
But are you ready to make the most of these benefits with your current systems?
While interest is high, for most Utilities the answer is no.
This is largely down to inflexible legacy systems, not built for today's digital and data-dominated world.
With smart grid and smart application use skyrocketing, Utilities now need digitized systems ready to automate the mountains of data from these new channels.
Agile systems for the smart Utility
So how can the right technology systems help you catch the smart energy wave?
Look for technology that's equipped to talk to the smart grid and its customers, along with all the products within the ecosystem (appliances, meters, etc).
On top of the critical systems you rely on to get energy to the customer, you need a flexible business system layer that lets you adapt to changing smart energy demands.
With an agile, cloud-based front end – one that's integrated with your core systems – you can make more of your data from the smart grid. This empowers you to deliver better digital experiences, make decisive commercial moves, and take opportunities to increase efficiencies.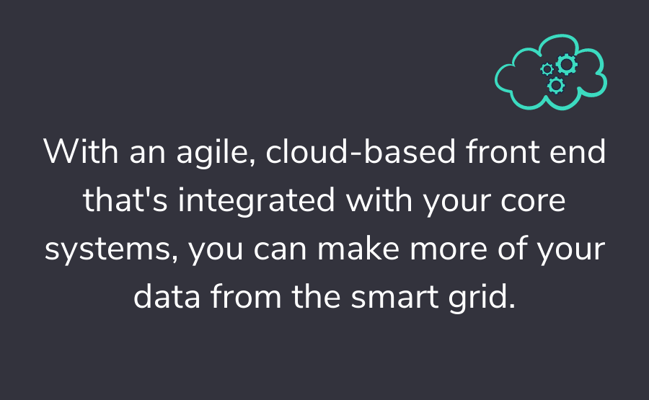 You need a platform that can centralize customer and commercial data to make smart real-time recommendations to both your people and customers.
This not only provides value for your customers, but empowers you to automate the likes of demand response to seamlessly ensure your supply always meets demand. All while maintaining data integrity and providing the audit trails necessary to help you meet regulations.
We've taken a whistle-stop tour of how the right technology can set you up for the smart revolution.
Let's move on to how tech can help you improve your customer experience (cx).
Creating a new kind of customer experience
Your ability to meet customer expectations, whether it's through transparency, tailored real-time interactions or 24/7 assistance, again relies heavily on data.
If your data is inaccessible or disorganized, you won't be able to offer the digital cx your customers expect.
As we touched on in the last section, getting all your customer data onto a single platform is key. From there you can get a single view of your customers – from their purchasing history to their preferences.
Having your data in a single hub will transform your sales and services. You can offer your customers personalization, quick access to information and frictionless customer service.
The vast majority of your customers will be happy to share their data if they see the benefit:
90% of consumers will share behavioural data if it makes their experience cheaper or easier.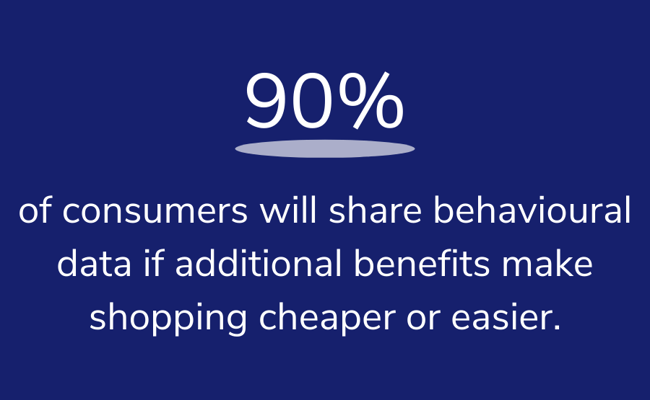 Plus, according to research, the more digitized your experience, the more likely it is your customers will trust you.
And there are more ways digitization and data will build trust with your customers.
Not so long ago, saving your customers money would have been seen as counterintuitive. Now using data to recommend ways they can slow their meters from spinning will build trust and increase customer lifetime value in the long run.
Shift perceptions around selling products and services
As we've seen, your customers want you to do more than supply power.
But, to get the experience they want – with greater visibility and control over usage – your customers know they need additional products and services.
As the provider that powers these appliances, products and services, Utilities are well positioned to be the place your customers buy these goods.
But buyers also have plentiful options – something the regulated Utility space has limited experience with. So if you haven't already, this requires a shift in the way you approach sales.
You can offer your customers additional products and services, from refrigerators and boilers to thermostats, smart meters and more. Whether that's through intuitive self-service, or guiding your customer agents and field personnel by giving them all the information they need to make tailored recommendations for customers.
And satisfying these new demands is a win-win scenario. Your customers get what they want from a trusted resource, and you can explore new revenue streams for your business.
But this kind of experience relies on a technology platform that empowers you to deliver the entire customer journey. Right from launching new offerings, to managing sales, appointments, quotes and the fulfillment of your products and service. All while providing the single source of truth and full audit trail required for regulatory compliance.
Combine tech & data to thrive
The trends we've explored are pushing you to become more efficient, while also putting more impetus on agility and innovation.
The answer lies in technology.
With technology equipped to make the most of your data, you can empower your people to satisfy customer expectations, meet regulatory requirements and increase efficiencies, all while keeping ahead of the competition.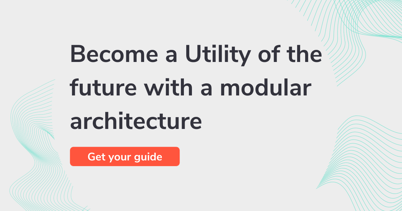 Download your free guide today to see how a modular architecture can help you become a digital Utility of the future.