Here's our latest 'Spotlight on', a quick-fire round of Q&A where we get to meet the people who make CloudSense great.
It's a fast, fun way to learn a little bit more about CloudSense's people – from what makes them want to come to work every day – to the meal they'd pick before they met their maker on death row.
Today we get to know a CloudSense luminary, Ram Thothathri. Ram is leading our new Chennai office, combining his role as the General Manager of CloudSense India with his position as CloudSense's Head of Customer Success Engineering.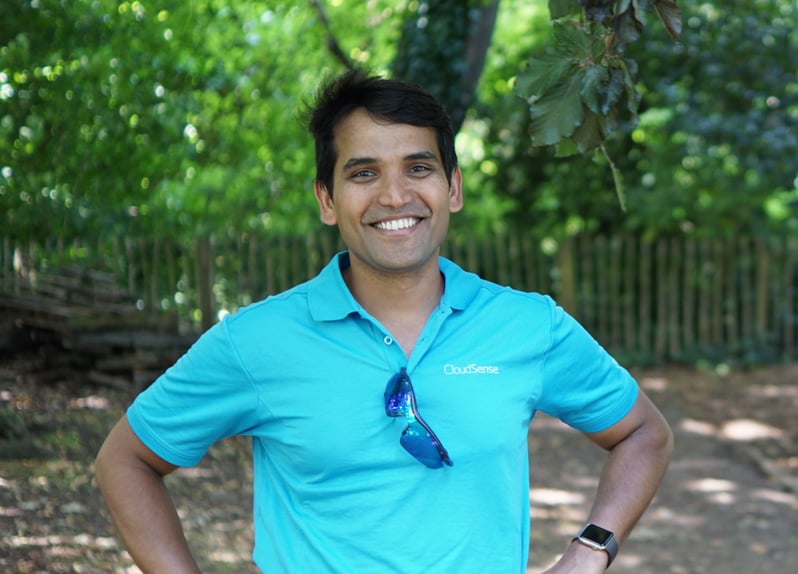 Name, Position & CloudSense Office:
Ram Thothathri, General Manager – CloudSense India & Head – Customer Success Engineering, Chennai, India
What do you do at CloudSense on a day to day basis?
I wear two hats and one hat requires me to assist our customers and partners get the best out of CloudSense products. Another hat, a new one, requires me to lead CloudSense India operations which I am hugely excited about for the opportunity that it presents to CloudSense and to our customers and partners in the region.
How long have you worked here?
Since 2011.
What was your background before joining?
I was an independent Salesforce Technical Solutions Architect prior to joining CloudSense.
What's your favorite thing about the CloudSense office?
My fellow colleagues; a culture that respects individuals and empowers them to give their best; a strong leadership team.
When was your best day at CloudSense and why?
It should be the day when I was offered a position at CloudSense. Both my personal and professional lives have been rewarding and enriching over these years and look forward to many such years to come.
What are you most looking forward to about opening an office in Chennai?
I am really looking forward to providing a complementary talent base in Chennai to support CloudSense in its global growth aspirations.
What is your favourite thing about India?
Family and friends; South Indian Veg food; Being able to talk in Tamil language!
What inspired you to relocate from the UK to lead the Chennai opening?
All of the above and also the opportunity that India presents to CloudSense to fulfil its growth aspirations. In addition, our partners and customers in the region would benefit from a timezone friendly CloudSense delivery centre.
Why do you think CloudSense will succeed in India?
I believe that the following characteristics will help CloudSense succeed in India. As an organisation that respects and empowers its employees; as an organisation that runs a profitable business, is well established and yet with a startup mindset to its India operations; as an organisation that will provide a work environment which will be intellectually stimulating and rewarding to its workforce.
What attributes are you looking for in employees to hire for Chennai?
We are looking for people with the right attitude and mindset to learn and grow. We look for team players; we look for people who are able to effectively communicate their thoughts and actions; and we look for people who take responsibility for their actions.
Describe a 'CloudSense person' in 3 words...
Team player, Intelligent, Great sense of humour!
What makes you want to come to work every day?
It's my fellow colleagues and the opportunity to learn and work with them.
If you could switch jobs with anyone else at CloudSense, whose job would you have?
I am greedy in that I would want to switch jobs and possess skills from two people in the organisation. Fawzi Fares and Ian Chick. Their combination would give me the best of high end solution consulting and leadership skills!
Where do you see CloudSense in 5 years' time?
A leader in providing intelligent commerce platform in the cloud to its customers and a top employer in all the regions that we have our presence in!
Where's your hometown?
Chennai, Tamilnadu, India.
Where's your favorite place in the world and why?
ICF, the area where I grew up in Chennai, and Rye park, which is next to where I live in High Wycombe, UK. These two places bring an instant smile to my face!
What's your favorite book?
When Breath Becomes Air by Paul Kalanithi.
And favorite film?
Air Force One
What would be your desert island DVD box set?
Collection of our family pics including the photos of my twin daughters from their birth

A.R.Rahman songs
What's your guilty pleasure?
A walk along the rye park (next to my home in high wycombe) followed up with a flat-white coffee at Costa just when my wife wants me to do the dishes!
What would your death row meal be?
Rice, Dal Rasam and Potato fry. This is my ultimate comfort food!
Who would you invite to your dream dinner party?
Sachin Tendulkar, Warren Buffet & A.R. Rahman – These are men who have achieved greatness in their respective fields and yet have held their feet firmly on the ground.
Who would play you in the film of your life?
Hmm…I would happily be the lead of my own life!
If you were guaranteed to be successful in a different profession, what would you do?
Investment management.