You've been championing digital transformation in your business for years.
And we've been right there with you.
Why miss out on the efficiency and innovation that come hand in hand with cloud, digital and automation? Not to mention the vastly improved customer experience.
Most of your colleagues were on board, too.
But consensus didn't stop some digital programs ending up on the back burner.
Until now.
Since coronavirus unceremoniously dumped change at our doorstep, no business can afford to let digital transformation slip down the to-do list. It's the business imperative.
This means you'll never have a better opportunity to fast-track your digitization.
As we'll explore, Covid-19 has given you a mandate to reshape your business. A chance to meet the digital future that's arrived on fast-forward and satisfy the new habits and behaviors it's rapidly bred in the process.
Lifting the lid on our digital future
While society's shift to online was already well underway, coronavirus has given it an almighty hurry-along.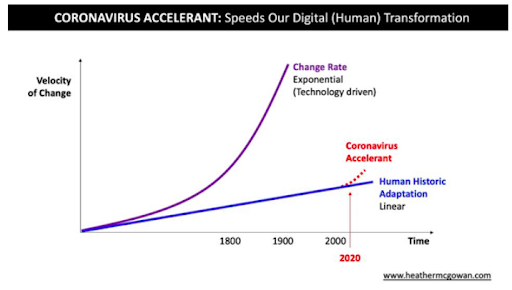 We've seen years of digital transformation packed into months.
From swift digital developments in healthcare and education, to a shift in the way we work, spend and socialize. There's been a five year digital acceleration across the board.
To say it's been disruptive (and not in the good way) is an understatement. But the past few months have also lifted the lid on our future.
Spoiler alert...
The future's digital.
Pre-pandemic, it was already predicted 95% of sales would be facilitated by digital by 2040. Now we can expect this date to move closer still.
A vaccine will (touch wood) see the spectre of social distancing dissipate. And this will allow for more nuanced omnichannel experiences – where physical and digital touch points intertwine depending on people's preferences. But, make no mistake, the future will be digital-led.
Because people's attitudes and habits have changed. Right from the way we buy and sell products, to the way we work.
Remote work skyrockets & sentiments change
Out of necessity, remote work has boomed.
The enforced work from home experiment has been surprisingly successful. And this success is set to see it endure.
Turns out employees actually do work from home, putting more businesses at ease with the idea.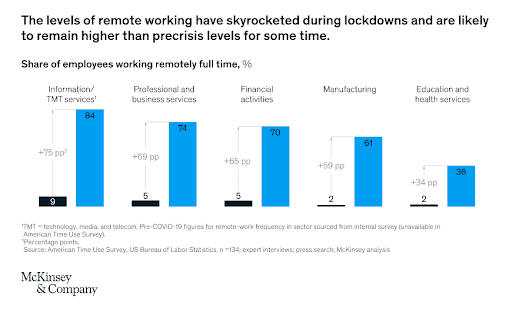 Tech behemoths like Amazon, Google, Salesforce and Twitter have either extended their work from home policies, or made them indefinite. Facebook has already moved to incorporate remote work in its long-term HR strategy.
And, where tech leaders make the first inroads, other office-based businesses will follow.
Alongside steady productivity, there's another motivation behind big businesses hitching onto the remote work bandwagon: The huge real estate savings.
Morgan Stanley's CEO was among the big business leaders reasoning that there's less need for as much expensive office space:
"We've proven we can operate with effectively no footprint...Can I see a future where part of every week, certainly part of every month, a lot of our employees will be at home? Absolutely."
A PwC pulse survey showed this sentiment isn't limited to a few companies:
49% of businesses will make remote work a permanent option after lockdown, while 27% plan to reduce their expensive real-estate footprint.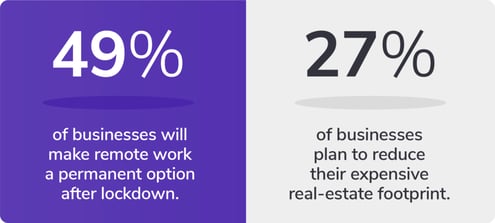 Meanwhile, employees themselves aren't in a rush to return to the office. Three-fifths of U.S. employees working from home because of the pandemic want to stay remote.
The enterprise at home opportunity
The change in sentiment and shift in requirements for businesses and their employees is set to have a knock-on effect for Communications providers.
With fewer offices, less square footage and fewer people at work, on-premise products will see a fall in demand and become less profitable.
But, with less than half of businesses set up to work from home effectively, there's also an opportunity for providers who can pivot quickly to satisfy new needs.
We've all seen the success of remote working tools.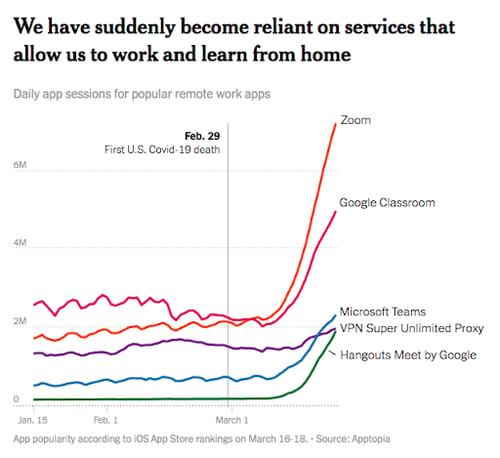 But, for big businesses, there's more to consider as they adapt to become flexible stay at home enterprises.
Employees will require the same network performance and security from their home broadband as they get from on-prem Wi-fi in the workplace. They will also want a convenient one-stop-shop where they can bundle office furniture and other essentials for remote employees.
CSPs that can adapt and rapidly offer these digital services will open up new, lasting revenue streams.
But, naturally, any new B2B2C offerings will need to be sold and delivered digitally, with a heavy focus on customer experience.
Because the jump to digital in the workplace is also being mirrored in the way people buy.
New digital habits & routines will continue
The amount of time it takes to form a habit is disputed. But if we go with the average of 66 days, we've had ample time to create new routines and habits.
And some of them are set to stick:
75% of people using digital channels for the first time indicate they will continue to use them when things return to "normal."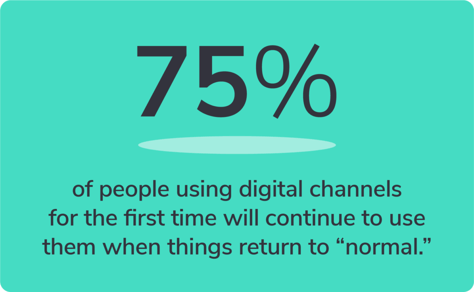 That bears worth repeating – a hefty 3 in 4 people expect to continue their new digital habits.
It makes sense. If we can get what we need online – why not do it more often? Why face the travails and cost of travel, when we can do most things from the convenience of our homes?
Of course, not everyone feels the same.
Some of your customers will return to their preferred physical channels. And some people will return to the office.
But, for most people and businesses, this period has been a real eye opener.
Changing customer sentiment and behaviors mean it's no surprise to see total digital traffic up over 10% across industries.
This rise, combined with out-of-action traditional sales channels and stretched call centers, means you could be facing up to growing revenue gaps and costs.
It spells out how important a cohesive digital channel is to your business. Not only to let customers take control and self-serve, but to cater to fast-changing customer needs by launching flexible offerings quickly.
What's more, with digital growing in prevalence in our day to day, baseline customer expectations have risen again.
Digital experience is even more important
As we explored earlier in the outbreak, just giving your customers digital access in tough times helps to keep them happy.
The sheer availability of digital offerings has a significant impact on customer satisfaction.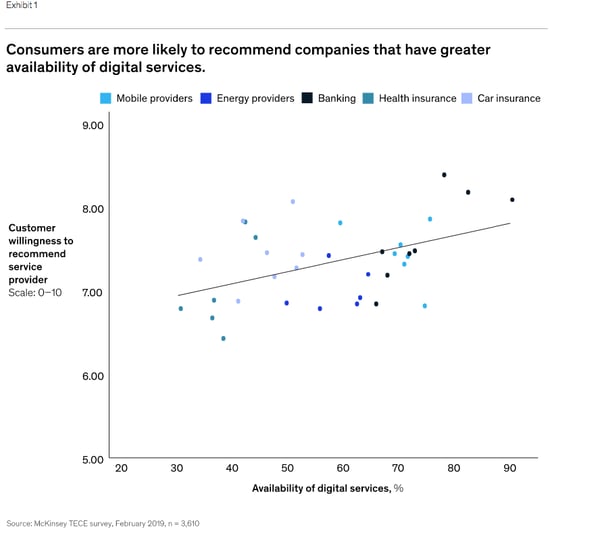 But, a digital storefront alone won't satisfy customer expectations.
Your customers have spent weeks at home, growing accustomed to the personalized, easy experiences on offer from Amazon and Netflix.
Even prior to the pandemic, 69% of customers wanted Amazon-like experiences. Today their expectations are even more defined by these tailored offerings.
They are less and less worried about price, more about whether you can meet their needs.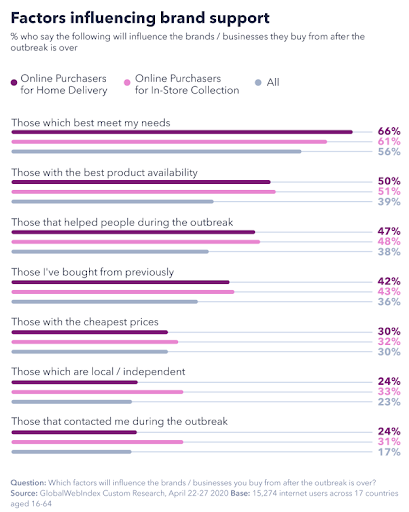 At the moment, this means not just being online, but following the principles of The Convenience Revolution to give your customers an elevated digital experience that builds loyalty.
This includes:
Take your opportunity to go digital now
Time to wrap up.
The speed 'unprecedented', 'challenging times' and 'the new normal' became cliché is just another indicator of how quickly the world shifted gears.
One thing is for certain.
It's not a time to sit and wait out the storm. Digitization's acceleration isn't going to be rolled back. And, as we've seen, new ways of doing things aren't going to disappear over night.
For digital champions it's a chance to act. Whether it's to help your business remain relevant, grasp new opportunities or meet the digital future head on.
But, right now, you don't have the luxury of years to implement a fast and flexible digital channel.
You need a solution that gives you fast time to value, alongside the right digital experience. You also need a platform that can handle flexible subscriptions and let you quickly sell your products and services, however complex.
We can help.
Launch your B2B Digital Commerce channel in just 90 days with DigitalNOW, our out-of-the-box Digital Commerce and Subscriber Management solution.
Discover more about how DigitalNOW lets you meet accelerated digital demand in our solution hub here: https://smile.cloudsense.com/digitalnow-hub