If you're not using an Order Management system, you're in the right place to find out more.
But, less fortuitously, you're also missing out on a host of benefits for your Media business.
An Order Management System streamlines and automates ad sales processes, gives you more flexibility and visibility, increases efficiency and can also boost your revenues.
If you're on the fence about Order Management Systems for Media, or just want to find out more, we're here to help.
Read on to see if you're suffering from the common problems that could mean your business needs an OMS.
1. You're constantly using words like 'swivels', 'work-arounds' and 'manual processes'
These aren't the kind of words you want to hear when operational efficiency is an essential weapon in your armoury to battle shrinking margins.
But, if you're finding it difficult or time consuming to do simple tasks over and over – one thing's for sure – it's eating away your margins.
With the array of operational efficiencies ready to be exploited with an OMS you could replace swivels and work-arounds with 'streamlined', 'direct' and 'automated'.
Sounds more like it, right?
2. You don't have one Product Catalog for all ad products
Having one Product Catalog for all ad products is essential to innovate quickly and enable your teams to sell effectively.
It simplifies your systems, making it easier to manage products – saving your people time and driving efficiency.
For example, with a single Product Catalog, your business users can deploy product and pricing changes to all sales channels at once, giving you full control over pricing and margins.
3. You can't streamline ad ops
Can you book cross-media ads in a single order? How about edit line items in active orders without cancelling or rebooking the original order?
Streamlining your ad ops with an OMS could mean error free, quicker campaign releases.
Just imagine, you could free up hours in your week, eliminate human errors and make campaigns' current status accessible to all stakeholders. Anywhere, anytime.
Reducing friction from your ad ops is a sure-fire way to make both your customer and employee experience more convenient – and keep everyone happy in the process.
4.

You don't have a 360º view of all data
To maintain and grow your ad sales, a birds-eye view of all your data is essential.
With an effective OMS, you could have visibility of both you and your customers' data in your CRM, with the ability to automate reporting for different users.
This complete picture empowers you to make smarter decisions by spotting opportunities and planning for growth.
5. You can't integrate with the systems your teams use every day
It's vital that your team can easily use the systems they use day in day out to make ad sales, booking and billing seamless.
What could a fully integrated ad stack do to help you and your team?
Well, for starters: enhanced collaborative workflow, better prioritization and improved communication between different teams.
We could go on. With the right OMS you can integrate your ad servers, downstream systems, third-party systems and more to give your people everything they need on one platform.
6. You aren't offering convenient customer journeys
Convenience is one of the biggest factors influencing your customers' loyalty and your employees' ability to do their jobs well.
Let's just say it's no coincidence 101 million people subscribe to Amazon Prime.
And, as Amazon have shown, customers truly value speedy delivery and convenience – often above and beyond product and price.
Beyond your customers, your teams don't want to rely on manual work or swivel chair processes to fulfill every order. They want it to be as fast and simple as possible.
By streamlining and automating the ad sales journey, an OMS streamlines the customer journey – from order to delivery, giving your customers and employees the convenience they crave.
7. Your data is quickly outdated
Have you ever spent ages collating, ordering and analyzing information, only to realize by the time everything is organized – it's out of date?
An OMS empowers you to do this in real time. Gather information quicker to ensure that the information is current and always up-to-date.
This means everyone in your team is using their time effectively, leading to quicker processes, cost cutting and happier customers.
8. Your existing systems can't keep up
You never want to lose a sale. The easiest way to ensure this? Deliver exactly what the customer wants.
But, with the way people consume content continually changing, this is becoming a more difficult task.
For example, 74% of online consumers get frustrated with websites that offer content which doesn't directly relate to their needs and interests.
If you're struggling to meet evolving expectations because you're not serving what you've sold or you're wrestling to support multiple rate cards, your current systems probably aren't up to the challenge.
With an effective OMS you can empower your people with the right tools to satisfy customer expectations, stay ahead of the competition and optimize your ad operations.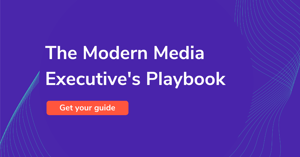 For proven strategies on how to drive Ad Operations success, get our free Modern Media Executive's Playbook here.