Automation can save your business time, labor and money – not to mention making you easier to do business with.
It might be less celebrated than its new kid on the block counterpart, AI (which we recently covered here), but automation's an essential part of any successful digital transformation.
From automating routine and repetitive tasks, to providing advanced personalization, automation can make improvements across your business.
40% of telecom, media and tech executives say they have already gained substantial benefits from cognitive technologies.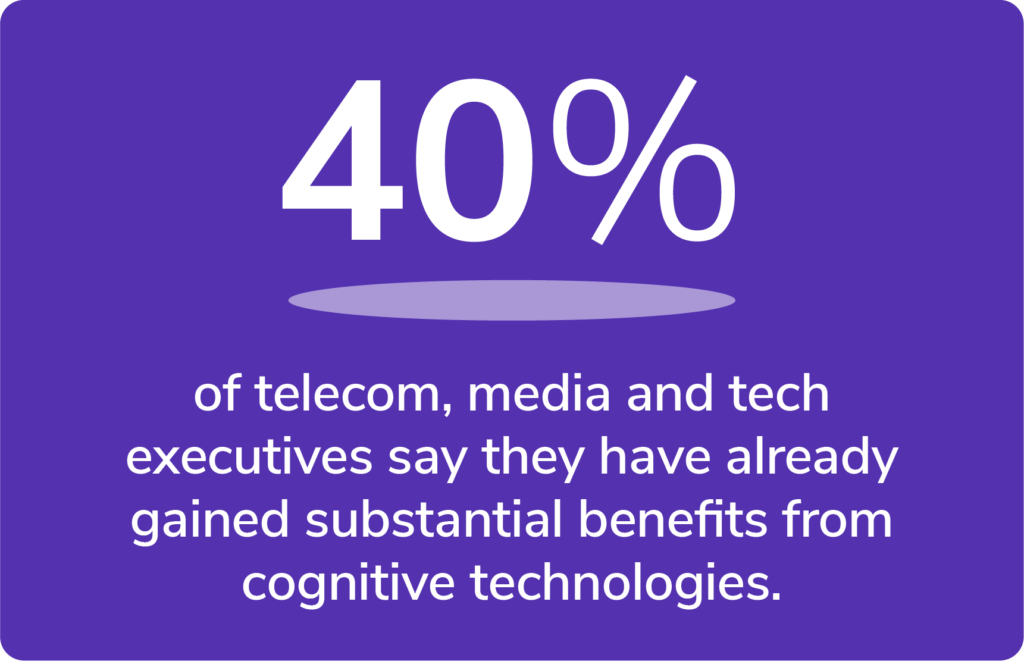 So it's no surprise that automation spending is forecasted to hit $232bn by 2025.
In this blog we'll be looking at how automation can hugely increase your operational efficiencies, productivity and revenues, while also elevating your customer experience.
Automation unlocks efficiency and boosts productivity
Automation can unlock efficiencies in every department. From marketing and sales, right through to your customer service.
The slick technology replaces labor-intensive processes, handling up to 45% of repetitive work from billing to data entry.
By automating back-office operations and large volumes of repetitive tasks, you can skyrocket your people's productivity rates.
What's more, removing manual tasks empowers your staff to focus on more valuable customer interactions, where interpersonal communications skills and judgment-based decision-making are essential.
As well as giving your agents more time, you can automate parts of your Digital Commerce journey to unlock a host of efficiencies. Whether it's automating discounts and promotions to ensure 100% accuracy for every transaction, or your order fulfillment and billing.
This won't just help make your business more efficient, but give your customers a fast, accurate and hassle-free experience.
Automation cuts your costs
Automation typically results in cost savings of 40 to 75 percent.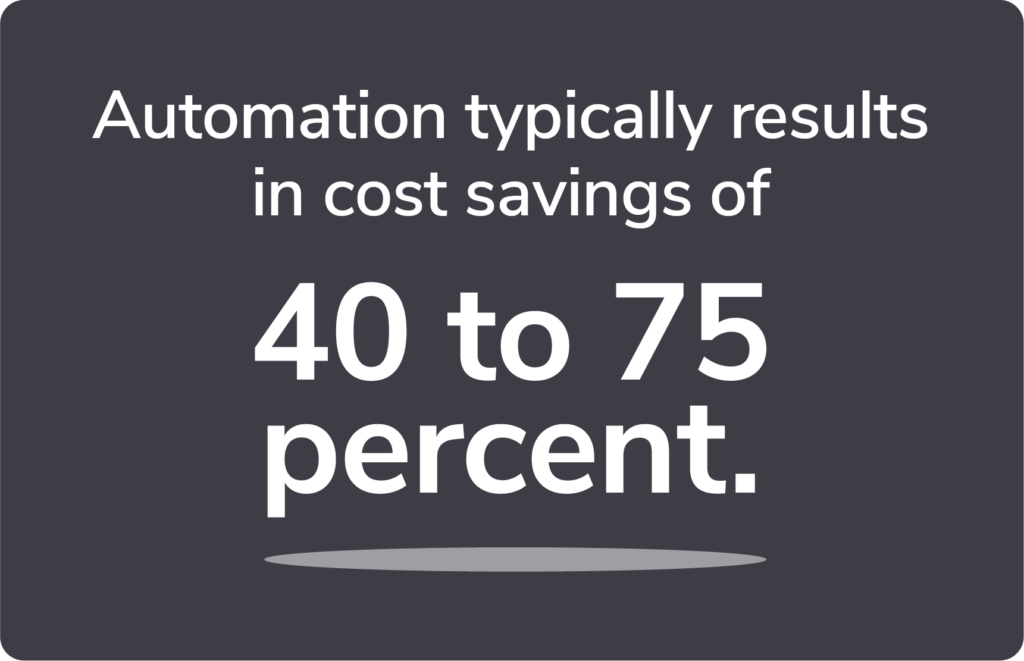 This next-level cost-cutting potential comes from the likes of optimizing employee time and speeding up lengthy processes.
And with inefficiencies costing organizations 20-30% of their annual revenue, it's one of the savviest investments any business can make.
Eliminating slow processes isn't the only way automation helps you cut costs.
Every transaction with your customer is susceptible to human error – whether that's in the proposal or sales process. These errors can add up to be costly to your business.
A combination of automation and AI guides your employees and helps them avoid mistakes.
And if any errors do slip through the cracks, automation can also help you spot flaws and identify any bottlenecks. Saving you from wasting time, money and resources.
By streamlining processes and optimizing your workflows, automation makes a big difference to your bottom line.
Elevate your customer experience
Your customers won't settle for anything less than rapid responses, frictionless services and personalized experiences at every touch point.
Automation is part of the toolset that helps you deliver on these expectations.
It elevates customer experiences by powering advanced personalization and consistent customer journeys.
Personalize your cx
Automation can help you satisfy the 84% of customers who want to be treated like an individual.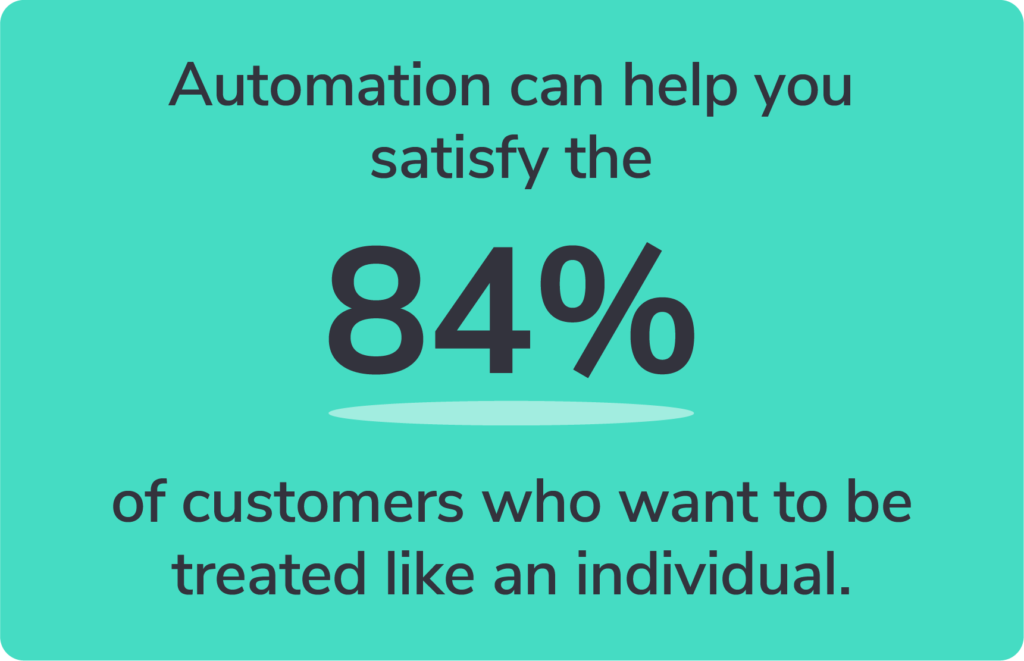 By combining real-time analytics with automation, you can segment and personalize your cx – analyzing large amounts of customer data to enhance real-time decision-making and personalization.
Coupled with AI, you can target individual customers with customized product recommendations.
Faster experiences
Alongside personalization, automation can hugely speed up your customer journey.
An example that combines both speed and personalization is document generation.
Doc gen creates dynamic, personalized and accurate documents for every single one of your customers.
And when it comes to approvals, eSignature means your customers can sign their contracts at the click of a button.
This simple piece of automation takes you from a high-click journey to a low-touch cx – making contract completion fast and easy for you and your customers.
Consistent, real-time customer service
As we've just covered, speed is important.
Consumers are impatient. 90% rate an "immediate" response as important when they have a customer service question.
But, without accuracy and consistency, speed alone doesn't make for a great experience.
Automation tools can enable your team to deal with multiple queries simultaneously, providing real-time feedback. This will improve the user experience and limit any miscommunication.
Plus, you can record and analyze every interaction to make sure your team provides consistent, quality support.
With automation in all the right places, you'll never have to worry about a lackluster customer experience.
Generate higher revenues
As we've seen, automation has lots to offer…
It automates tasks. It streamlines processes. It makes life a whole lot easier.
But there's more.
On top of ease and convenience, it gives you the opportunity to reap higher revenues.
63% of companies outgrowing their competitors are using automation.
With marketing automation, you can make customer emails a cinch – saving hours of work with predefined email templates.
And they work. Automated emails get 86% higher open rates, produce a 196% increase in click-through rates, and generate 320% more revenue than standard promotional emails.
Another way to generate higher revenues with automation is through renewals. You can automate communication and activation of renewals from the moment you close the deal – maximizing retention by making the process incredibly easy for your customers.
This set it and forget it system gives you increased revenues, without the effort.
Automation can give your business results, double-quick
Manual processes won't cut in the digital world – for your employees, customers or partners.
So, whether you're looking to streamline digital processes and standardize day-to-day business workflows or improve your customer experience – automation can help your business.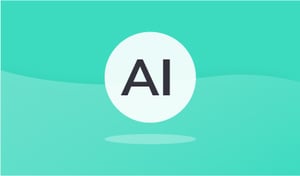 To see how you can leverage automation's slicker sibling, AI, to make the most of your data, read our blog Leveraging breakthroughs in technology – AI.