This is a bit different to our usual blogs – but we're sure you'll agree that we're living in unusual times.
Because coronavirus is changing our lives. And we're all having to adapt, fast.
Whether that's by working and exercising at home, or catching up on Skype and shopping online.
(A quick aside – we can't stress how minor these changes are compared to what some people are dealing with. We know we're very lucky this is all we have to worry about.)
The human race has always been quick to adapt. But today technology is helping us do so faster than ever. And, interestingly, tech isn't just making it easier for us to adjust to our altered reality. It's also giving us a clear picture of the ways we're doing it.
This is most simply demonstrated by taking our list of changes to everyday life and putting related phrases into Google Trends.
Google Trends, Digital Commerce & COVID-19
Working from home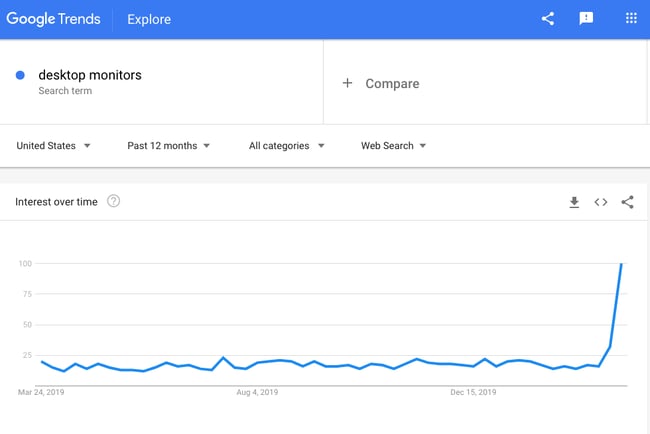 Exercising at home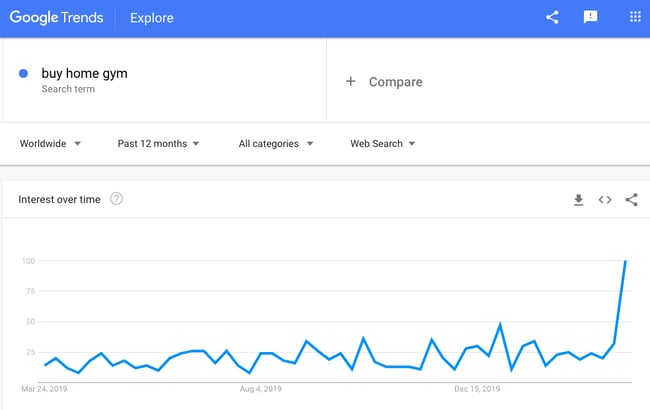 Video calls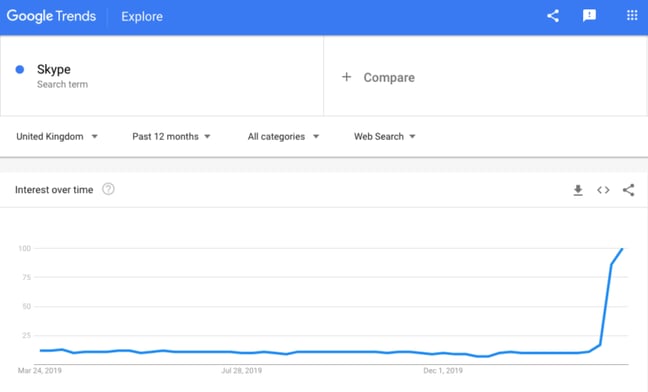 Online shopping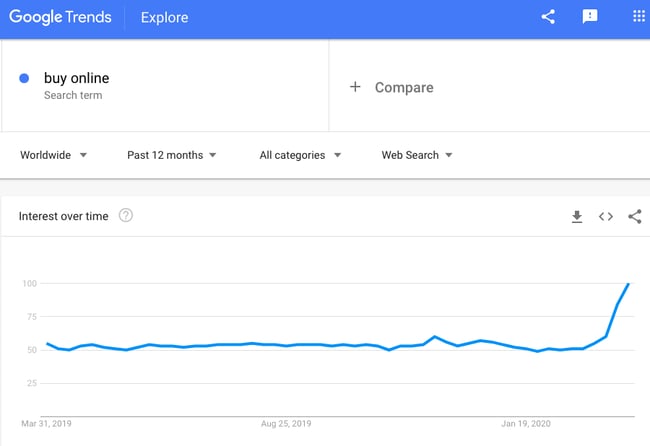 Digital Commerce is booming
These are only a few examples, but, as you'd expect, COVID-19 is having an enormous impact.
While we're no strangers to buying online, compared to normal levels, online shopping is surging.
With most of us staying at home and social distancing, it's no surprise. But seeing the data brings home how much things have changed in such a short period of time.
And, for now at least, this is the new normal.
As a result, Digital Commerce is booming. Amazon is hiring 100,000 staff to keep up with demand. And UK food delivery service Ocado has had to temporarily stop taking orders.
Again, a look at Google Trends makes it easy to see why.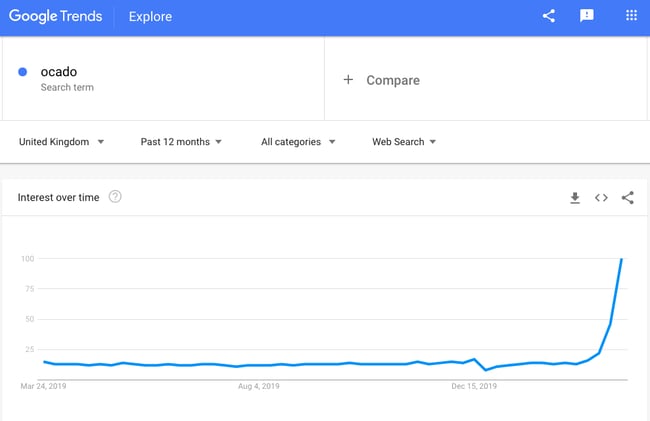 At the moment, if the option's there to buy online quickly and easily, we're going to take it.
It's the most convenient and safe way to get the products people need. Even if the demand for some products is a bit irrational at the moment...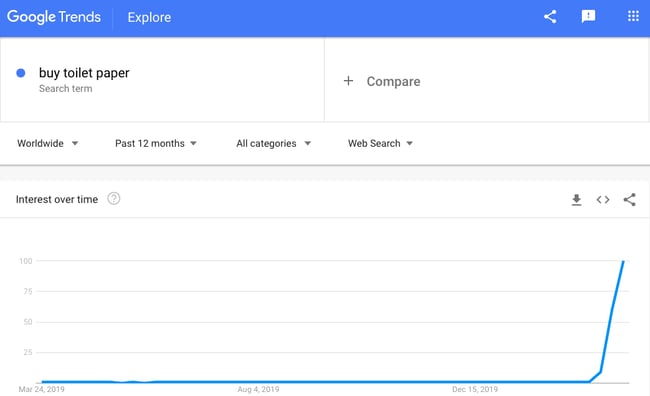 Customers and businesses are already adapting
To slightly update (and, if we're honest, spoil) the old adage – a Google Trend paints a thousand words.
The data shows that any business set up to make the most of the surge in online buyers will be better off in this climate.
With online shopping expected to double its share of the retail market by 2028, they will be in the future too.
And COVID-19 has already seen our customers adapting the way they sell.
They're having to launch new commercial offers quickly to meet changing customer demands. For example, by adding home office equipment into a broadband bundle.
They're also having to cope with higher traffic and order volumes. And, as always, competition and customer expectations means the experience still needs to be as convenient as possible to win business.
We'll keep you in the loop with the demands our customers are facing, and try to dig out some data in the not too distant future.
Until then, if you want some inspiration for getting your Digital Commerce right, check out our blog on 3 brands nailing their Digital Commerce.