Today's business climate is more agile than ever before, with digital transformation forcing companies to rethink what they sell, and how they sell it. Consumers are demanding more, B2B sales across industries are becoming more complex, and companies are feeling the pressure to deliver. Cue Configure, Price, Quote: a suite of applications that help transform the complex process of configuring products and services into a simple and straightforward one.
While CPQ contributes to revenue success, its various use cases mean it's not always easy to articulate how the software helps ramp up sales.
To help, we've gathered some useful CPQ stats to help give you a clear overview of CPQ - from why it matters, to the benefits of implementing CPQ for your business.
As customer relationship management is becoming more complex, CPQ is experiencing tremendous growth. The market for CPQ software is enjoying a boom period, with analysts predicting it to grow by US$1.65bn to US$3.8bn between 2022 and 2026.

Through introducing digital operations, an advanced CPQ solution can offset the complexities many telcos, Managed Service Providers and media publishers face, making life easier for themselves and their customers.
From start to finish, the headaches and swivel-chair processes that torment Managed Service Providers during the sales and delivery process are streamlined into something not only more manageable, but also efficient, reliable and user-friendly for customers.
With the help of a CPQ solution, the product catalogs from all vendors are pooled into a single catalog, allowing staff to configure solutions from a single location.
4. If you don't provide a customer experience that they expect,

89% of consumers

will switch to a competitor

5. 43% of all consumers would pay more for greater convenience
The modern consumer cares about personalization, convenience, quality of service and expects conscientiousness from the people they do business with. CPQ and an Order Management Systems can help with this.
When integrated with CPQ, an OMS offers you invaluable flexibility in the sales process. Namely, the ability to Configure, Price and Quote multiple products in the same proposal.
Done well, CPQ allows a business to seamlessly correlate their product inventory with up-to-date customer data, enabling them to not just fulfill increasingly complex orders, but also improve Net Promoter Score (NPS) and general customer satisfaction.
6. It takes non-CPQ users 73% more time

to produce a typical quote or proposal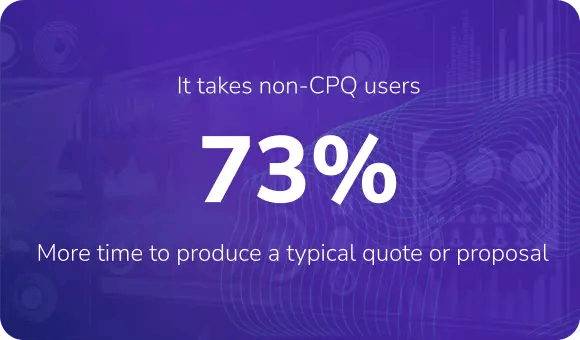 7. 26% more sales reps

achieve their quota when using a CPQ solution
Many businesses are reaching a point where their ability to generate quotes is extremely inefficient. Through the use of CPQ, sales reps are able to automate and optimize this process, helping them sell faster, and more accurately.
8. Vendors who respond first win

50% more deals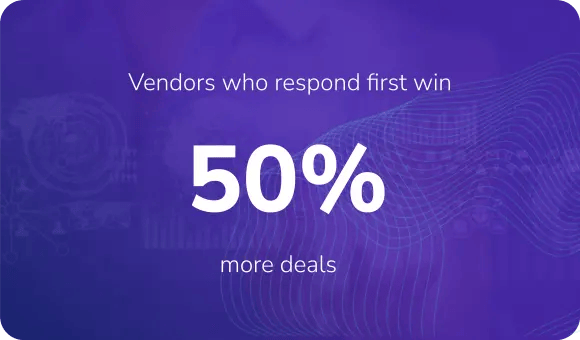 Held back by manual, tedious, monotonous tasks, sales reps end up wasting 66% of their time solely on unproductive tasks: organizing and relying on data in Excel increases the chances of creating inaccurate prices, discounts and promotions. The lack of real-time data on spreadsheets makes it difficult for companies to track and manage their processes.
The further lack of centralization of systems creates inefficiencies, having a negative impact on cash flow and customer satisfaction. CPQ eliminates the need for time-consuming processes, by not only creating a centralized system with zero room for error, but by also automating such tedious tasks, leaving employees more room to focus on value-enhancing processes.

11. Studies show that with CPQ, sales cycles are cut by 28%, and the time taken for waiting for approvals is reduced by 95%
CPQ is set to grow due to the rising need for higher productivity. Assisting the sales management staff, CPQ equips sales teams with the right pricing information to close deals, enhancing their productivity. CPQ solutions help reduce bottlenecks in the sales process, allowing consumers to be shown the right product, at the right time and at the right cost. The increase in the speed of processes through automation saves time, enhances convenience and decreases organization costs.