You might already know how important Configure Price Quote (CPQ) can be to the success of your sales.
But CPQ's various use cases mean it's not always easy to articulate how the software helps ramp up sales.
To help, we've gathered some useful CPQ stats to give you a clear overview of CPQ – from why it matters, to the benefits of implementing CPQ for your business.
CPQ growth
CPQ's utility for businesses means it continues to grow.
1. In 2019, the CPQ application market grew by 15.5% to an estimated $1.42 billion. (Gartner).
2. The CPQ market will continue to grow at a compound annual growth rate (CAGR) of 20% through 2020. (Gartner)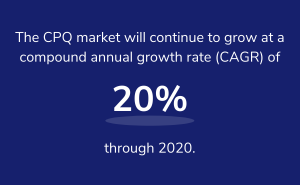 3. CPQ remains highly competitive and fragmented, with no vendor taking more than 17% market share. (Gartner)
Why CPQ matters to your business
Optimizing inefficient sales processes
4. 50% of sales time is wasted on unproductive prospecting and error correction. (Medium)
5. 50% of sales go to the first salesperson to contact the prospect. (Fronetics)
6. Exhaustive processes consume 66% of sales reps' day. (Zety)
7. It takes non-CPQ users 73% more time to produce a typical quote or proposal. (Medium)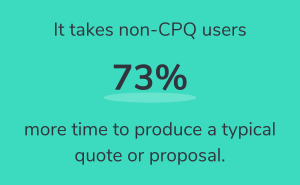 8. Sellers who are the first to produce an accurate, complete quote win the deal at least 60% of the time or more. (Forbes)
Living up to customer expectations
9. 50% of buyers choose the vendor that responds first. (Hubspot)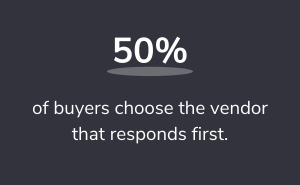 10. Suppliers that make buying easy are 62% likelier than other suppliers to win a high-quality sales. (Harvard Business Review)
11. 74% of people are likely to switch brands if they find the purchasing process too difficult. (Helpscout)
12. 9 in 10 customers will switch to the competition if you don't meet their expectations. (Entrepreneur)
13. It's 9 times more expensive to acquire new customers than to keep existing ones. (RevenueHub)
14. 98% of consumers have been dissuaded from completing a purchase because of incomplete or incorrect content. (Business2Community)
15. 73% of all people point to customer experience as an important factor in their purchasing decisions. (PwC)
16. 1 in 5 buyers are willing to pay a 20% premium for personalized products. (Deloitte)
Benefits of using CPQ software
Boost sales speed & efficiency
17. CPQ shortens the sales cycle by up to 28%. (Superoffice)
18. Companies that use CPQ can experience 105% larger average deal size. (Superoffice)
20. Best-in-class CPQ users may save $1 million in sales rep replacement costs over 10 years. (Hubspot)
21. Companies that use CPQ solution can experience 49% higher proposal volume. (Superoffice)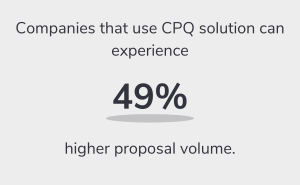 22. CPQ software has proven to eliminate 40% of human errors. (BlackCurve)
23. CPQ users see 1.6x greater year-over-year reduction in contract/proposal generation errors. (Aberdeen)
24. CPQ enables sales to send prospects and customers 49% more contracts, proposals, quotes and RFP responses. (Superoffice)
25. CPQ users enjoy 45% great proficiency at rapidly responding to RFPs. (Aberdeen)
26. CPQ users boast 21% higher effectiveness at generating complex quotes in a timely manner. (Aberdeen)
Increase conversions & revenue
27. CPQ can give you 5x greater growth in revenue year-over-year. (Aberdeen Group)
28. Companies with CPQ software see a 17% higher lead conversion rate. (Superoffice)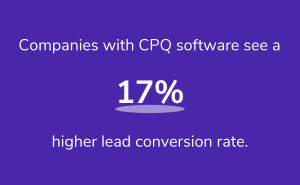 29. 26% more sales reps achieve their quota when using a CPQ solution. (Medium)
30. CPQ users can enjoy 8.2x wider margins in improving lead conversion rates year-over-year. (Aberdeen)
31. CPQ users enjoy 7.5x higher year-over-year increases in customer renewal rates. (Aberdeen)
32. People that use CPQ can be 60% better at speaking intelligently about competitors and differentiators. (Aberdeen)
CPQ leads to happy customers and higher revenues
Our quick round up of CPQ stats highlights why it's such a popular solution for growing companies.
CPQ helps you close more sales in less time, drives productivity and improves your customer experience.
So whether you're a CPQ pro or just considering the software – we hope you can use these CPQ stats to help inform your CPQ strategy.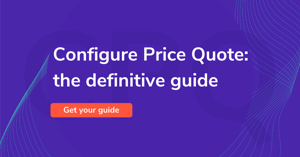 Want more CPQ info and insights? Check out our free definitive guide to Configure Price Quote here.