After attending countless Salesforce events over the years, we can say one thing with certainty: Salesforce know how to throw an event.
The Salesforce World Tour events are bursting at the seams. You've got keynotes, top speakers, industry sessions and the chance to delve into the heart of the Salesforce ecosystem.
It doesn't matter if you're a seasoned Salesforce World Tour attendee, or first-time visitor to one of Salesforce's roadshow events, the scale of the event can be overwhelming.
While the broad scope of each World Tour event is great, with so much to pack into one day, it can it can be difficult to know where to start.
As Salesforce event veterans, we've got a fair idea of what's worth doing at the World Tour. So, to get you started, we've put together a list of how to make the most of your time at a Salesforce World Tour event.
1. Plan and prioritize
One thing's for certain – turn up to a World Tour event without at least a basic plan and the day is liable to pass you by.
Ultimately the shape of your day will hinge on how (or whether) you currently use Salesforce.
If it's your first look at Salesforce, you'll want to attend different sessions than if you are in the process of buying or implementing it. The same applies if you're a long-time Salesforce customer asking "what's next?".
Whatever the case, be smart and set aside a few minutes to pinpoint exactly what you want to get from the day. From there scout out the agenda to work out what's worth committing your time to.
Doing this before you walk through the doors means you won't leave wondering exactly what it is you got out of the event.
Remember, if you've visited the event previously, following the same itinerary as last time won't necessarily be as effective this time around. Don't be afraid to mix things up.
2. Go to the keynote

Whether you've been to a Salesforce keynote before or not, it's well worth checking out the keynote at the Salesforce World Tour.
The keynote combines two of the key ingredients that make the day so useful: a view of the latest technology and the real-life stories from companies similar to yours.
You'll get unrivalled insight into both what's happened recently at Salesforce – and what's coming next. And, whatever your reason for visiting the World Tour, the messaging and content of the talk is usually a fairly accurate measuring stick of current and upcoming industry trends.
Insider tip: The keynote offers one of life's under-appreciated pleasures – somewhere to sit. There's a distinct lack of seating at the World Tour events, so head to the keynote or a breakout session to rest your weary legs.
3. Strike up a conversation - in person and on social
Everyone you see at a Salesforce event is in some way connected through the medium of Salesforce. (If not, they're probably in the wrong place...)
This means that whoever you're stood next to, you'll probably have something worth talking about.
So, when you're queuing for registration, getting a drink, or grabbing some lunch – take the opportunity to strike up a conversation with some of the people around you. Depending on why you're visiting the event, you could meet a potential customer, partner or learn priceless lessons from someone who has previously been in the same position as you.
If a story from a breakout session strikes a chord with you, why not reach out to your company's Salesforce person to try and set up some introductions in advance?
In general, if you're not usually the type to start up a conversation, don't worry, the convivial atmosphere at the World Tour events means the vast majority of people are more than happy to network.
Insider tip: Don't limit your conversations to the people you meet face to face. You can reach more people by engaging with the broader digital conversation on Twitter, Linkedin and Facebook.
4. Breakout sessions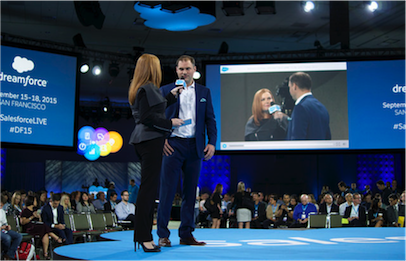 If you want to be the go-to person for Salesforce or the digital transformation guru in your business, you're in the right place.
Sessions from experts, customers and partners mean there's a broad array of industries, subjects and angles to choose from – and a whole lot to learn.
It doesn't matter why you're attending the World Tour, the sessions offer something for everyone.
For example, attending a customer story may inspire a different approach to your digital transformation with lessons they learnt during theirs. Or, a Salesforce partner you've never considered may demonstrate exactly the capabilities your organization is looking for.
Check out our customer sessions Dreamforce for a taster of the kind of customer-led session you can catch at your Salesforce World Tour.
5. Download the app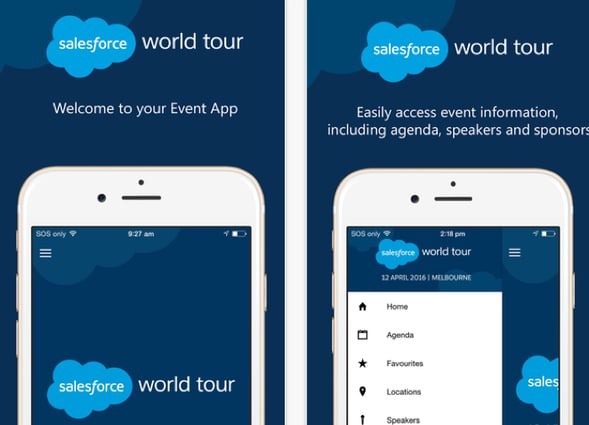 The Salesforce Events app covers every Salesforce event, including Dreamforce and the various Salesforce World Tours.
Download the app and you'll have a host of handy information about your World Tour event at your fingertips.
The app gives you access to essential event information including maps, directions, session schedules and exhibitor profiles. You can also filter sessions based on your interests and create your own personalized agenda, ensuring you don't miss any parts you're desperate to catch.
All in all, the app is well worth downloading to make it simpler to plan your day and help you make the most of the event.
6. Visit the Customer Success Expo
Don't shy away from the hustle and bustle of the Customer Success Expo. It's the heart of the show, where you'll see the full extent of the thriving Salesforce ecosystem.
Wander around the Expo and you'll find new products, see extraordinary demos and speak to people with an encyclopaedic knowledge of Salesforce.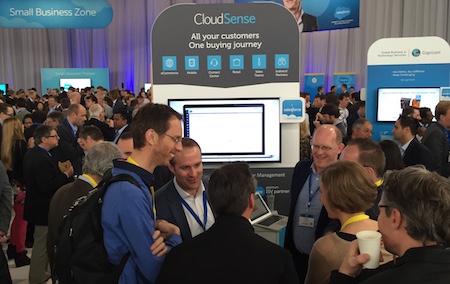 There have been over 4 million installs from the Salesforce AppExchange – this is largely down to the businesses in the Expo.
You can discover how organizations have built on Salesforce's Platform to get the capabilities they, or their customers, crave . Even if you're only at the early stages of looking at Salesforce, a knowledge of the wider ecosystem will help shape your understanding of what's possible and how to make the most of Salesforce.
We also can't neglect to mention that if you venture to the Customer Success Expo, you'll find the CloudSense team. Our team are a friendly, knowledgeable bunch and they will be more than happy to tell you more about our Salesforce-native industry-specific commerce Platform.
If you want to find out where we'll be at your Salesforce World Tour event, or you'd like to book some time with us you can find all the details here.
The Expo is also the place to satisfy your food and drink needs. So, whether you're craving a cup of coffee, a coke, lunch or a beer towards the end of the day, you will find what you need in the Expo.
Insider tip: While you can pick up a cup of filter coffee everywhere, the espresso cart can often be found in the Expo hall for any coffee connoisseurs in search of a short caffeine fix.
7. Network at night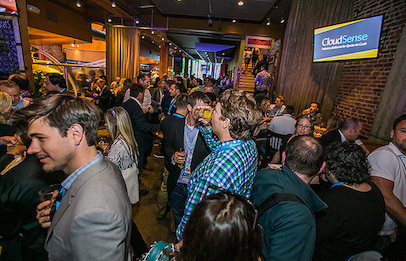 After a long event, you've earned the right to kick back and relax. But that doesn't necessarily mean your day at the Salesforce World Tour has come to an end.
The World Tour inevitably rolls on into the evening – and offers something for every taste.
You'll find food and drink served in the Expo hall, a variety of events offering a quick drink nearby (usually hosted by implementation service partners), or parties until the small hours of the next morning if that's your thing.
Wherever you end up, you can continue to network up a storm and round off your day in a relaxed environment.
Insider tip: Not so much an insider tip, as a cautionary tale... If you do end up having a couple of drinks, don't lose any business cards you collected or forget everything you learnt during the day!
If you'd like to see how CloudSense can help you sell better, innovate commercially and provide exceptional ongoing experiences, book some time with our team at your local Salesforce World Tour here: