Traditionally, most global Communication Service Providers (CSPs) have always focused on the B2C market.
But times are changing – telcos are shifting from consumer to enterprise.
Today, more than half of all CSPs globally get 90% of their revenue from B2C. But in the next 5 to 10 years, over 75% of CSPs expect more than half of their revenue to come from B2B.
In this blog, we'll explore why there are more growth opportunities in the B2B landscape. We'll then cover 3 ways telcos can accelerate their revenue growth in this space.
Why telcos need to capitalize on the B2B market
The B2C market is becoming increasingly saturated. With companies in different industries expanding their offerings across to telco territory.
For example, Rakuten in Japan, a successful e-commerce company is now building a greenfield mobile network to extend the reach of its suite of services to compete with the telco-originated players.
There's also the digital-native OTT players such as WhatsApp that have the backing of the likes of Facebook offering the same voice, video and messaging services but with far superior user experiences.
What's more, shrinking revenues and price competition are also stunting growth.
On the other hand, there's increasing demand for small businesses and enterprise customers for telco services.
So CSPs must adapt their business models, transforming from traditional telcos to integrated ICT services companies.
Here's 3 ways you can grow revenues in the B2B market.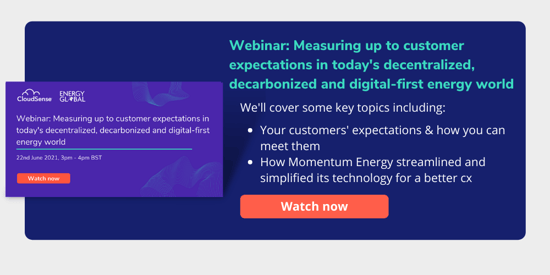 1. Partner up to acquire new capabilities
A lot of the time, your customers want a bundle of capabilities including software, services and connectivity. But there simply isn't time for telcos to gather capabilities required to deliver ICT solutions.
And the risk of being slow to react is too high as B2B contracts want results quickly.
So to deliver an array of capabilities to the end customer and enable new revenue streams, CSPs will often acquire new partners to access capabilities in a capital efficient way.
These partners can be fellow CSPs or businesses in other industries.
For example, Ericsson has partnered with Google to bring Google Cloud capabilities to the 5G edge to help CSPs digitally transform and unlock new enterprise and consumer use cases.
2. Bring new products to the market at speed
One of the best ways to accelerate your B2B growth is by giving your business customers new products quickly.
They're used to lightning fast experiences as a consumer, and 82% of business buyers want the same experience as when they're buying for themselves.
What's more, speed and quick decisions mean you can capitalize on new opportunities in the market which you might never see again.
But to get your products and services to the market quickly, you'll need the right tech behind the scenes.
For example, by switching out monolithic architecture for a modular framework, you'll have the agility and speed to innovate, as well as the predictability and scalability to meet fluctuations in demand on a broad scale.
You'll also get to capture revenue from new services, while reducing costs associated with personalization and customization.
On top of this, you'll want a powerful Configure Price Quote (CPQ) engine to get complete visibility and control of your products and orders.
As your product portfolio expands and expectations continue to surge, it's impossible to manage your products without streamlining some operations or introducing automation across the lifecycle.
But with the right CPQ solution, you'll get to eliminate any order errors, speed up your sales cycles and maximize order value to bring new business products to the market fast.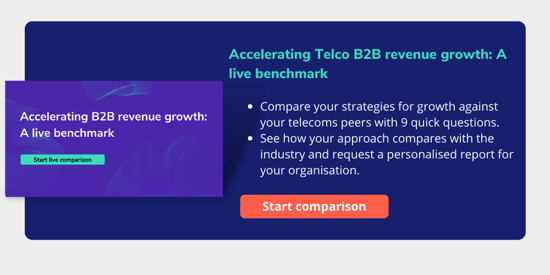 3. Offer services that anticipate market change
COVID-19 triggered a huge shift in the way we live and work.
To support this new normal, telcos need to step up to the plate – particularly when it comes to remote work capabilities.
Access to fast and reliable network connectivity for everything from video-conferencing applications to uploading/ downloading large files to the cloud, is an absolute essential when it comes to working from home.
There's also advanced security that needs to be supported by home connections to avoid jeopardizing any company assets.
This provides plenty of opportunities for telcos to grow B2B revenues.
Some telcos are already seizing this opportunity by offering services that solely focus on serving this working from home phenomenon – from Telia offering 4G routers for business-critical employees, to AT&T Business' special "work from home" package to device-as-a-service plans from Bouygues Enterprises.
So how does your B2B growth strategy compare?
Low growth and margin pressure in B2C make delivering on B2B growth expectations critical.
The success of your B2B strategy is essentially down to the capabilities you offer, the speed at which you can offer them and whether you're creating services that meet market demand.
Getting your technology right is a great place to start as it's the backbone of your strategy that sets the stage for innovative and agile B2B offerings.
Whether you're unsure where to begin, or just want some valuable industry insight, you can weigh up your B2B growth strategies with your peers with this live comparison. You'll also get a personalized report at the end giving you a clear overview of where you sit in the telco world.